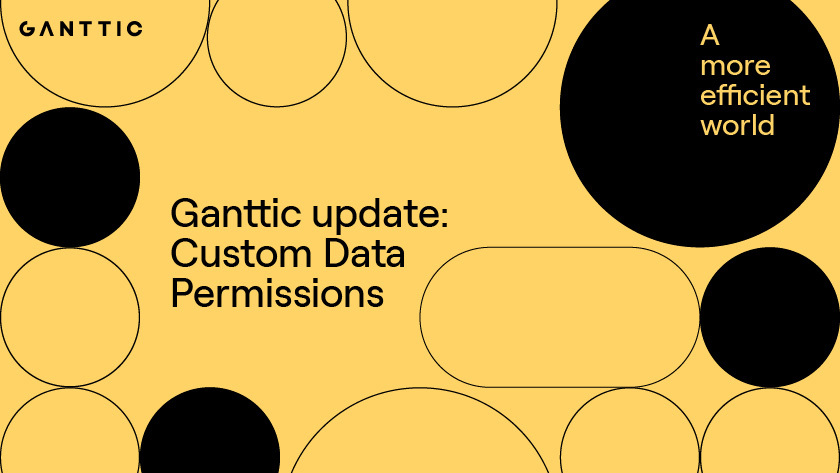 One of the most unique things about Ganttic's resource planner is the data fields. However, depending on your planning needs, there might be a number of reasons why you'd want to hide specific data from certain users. With our recent update, it's super easy to control exactly what your team can see, edit, or not see in terms of custom data fields.
Read on to learn more about Data Field Rights. And how you can customize permissions as you see fit.
Project, Tasks, and Resource Data Fields
For many of our users, custom data fields are a planning must. With them, users can add all kinds of necessary information regarding their projects, tasks, and resources. Data fields come in handy since they greatly expand the amount and types of data you can add to your Gantt chart. But they also keep things organized.
You're probably aware that you can filter and group via your data fields. These options make it easier to plan around specific resources. Ensuring that you're always choosing the right resource for the task at hand.
But what happens when your data fields contain sensitive information? Or perhaps you're working with a lot of data fields, some of which aren't relevant to certain users. Alternatively, maybe you want your users to have more control over their own resource data fields.
Well, that's where Data Field Rights come in.
Data Field Rights
Under User Settings you'll find a new category of permissions called "Data Field Rights." This allows admins to control what exactly other individual users can read, edit, or not see regarding all of your planner's Task, Resource, and Project Data Fields.
For all users, the default Data Field setting is "Edit." Meaning all users can potentially change any of your available data fields. And if you're happy with that, then there's nothing you need to do!
But now, if a user has the ability to see or edit certain projects, resources, or tasks, then admins have the ability to control the accompanying custom data fields.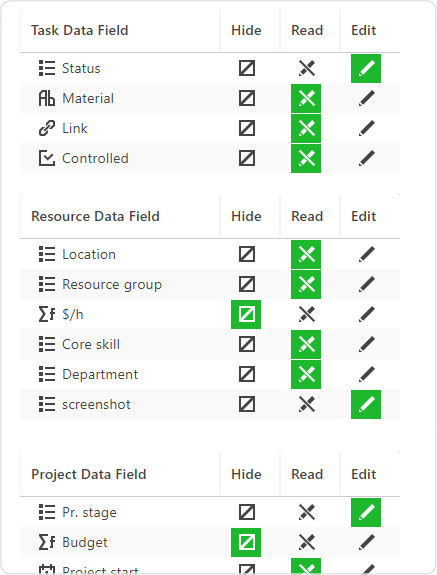 Data Field Rights Use Cases
Not only does this option now give admins further control over their Gantt planners, but there are a few specific use cases that Data Fields Rights can help you solve.
If you're working with highly trained specialists who are constantly upgrading their skill sets, they can now edit their own resource data fields. Saving Admins the trouble and eliminating any potential miscommunications.
Sensitive information can now be hidden. For example, data fields regarding ID numbers, personal information, and money.
Perhaps you're working with a lot of custom data fields. And in some cases, not all of this data is relevant to all users. With Data Field Rights, admins can curate what exactly they want their teammates to be able to see. Helping you hone in on the right details. And cleaning up your online Gantt chart.
We at Ganttic don't really like to tell our users how to use their planners. So don't let these limit your imagination. Or if you have your own unique scenario you'd like to share, we're happy to hear it. Contact us at experience@ganttic.com and let us know!
Data Field Rights Summary
With our latest update, Ganttic users are now able to do a few things. Read more about Data Field Rights from the Help Desk. And here's a rundown of the most important points:
Admins can control which data fields are hidden, read only, or editable for each user.
If your users and resources are the same, users can now edit their own resource data fields.
The Data Field Rights option is not available for admins, as they can see all data fields.
This option can be used to hide sensitive data. Or limit non-relevant data for users.
The default setting for Data Fields is "Edit." So if you choose not to change any of the Data Field Rights, users will be able to edit all the data fields they have access to.
Enjoy the new update. And if there's any other feature or option you're itching to see, contact us. For future updates stay tuned to Ganttic's blog. Or check us out on Twitter and LinkedIn.
Happy Planning!
Take control of your planning.