Transform Google Calendar Into Gantt Charts
Did you know that your favorite time management tool, Google Calendar, can be turned into something even better? Like a powerful resource planner or even a detailed project management chart? It's simple and takes only 3 steps! We'll explain how you can easily to turn your Google Calendar into a Gantt chart and take your plans to the next level.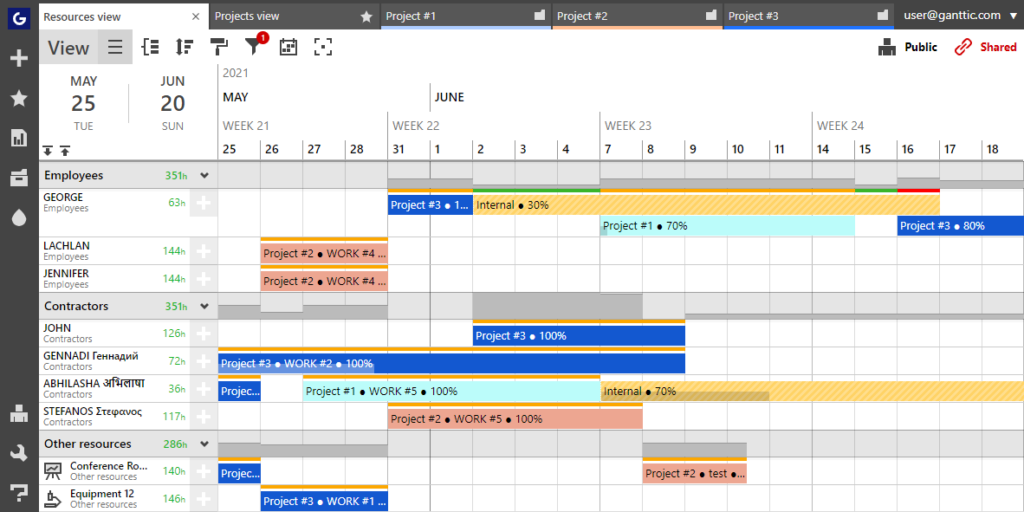 A Gantt Chart Calendar?
Google Calendar is a great tool for everyday use. It's a quick and easy way to keep track of project deadlines, client appointments, as well as personal obligations. But when your project portfolio begins to expand, things can get messy.
One solution to try instead is integrating your calendar with some Gantt chart software. The combination of the two is perfect for resource scheduling since it combines the personal approach of Google Calendar with the overview of Gantt charts. You can even call it a Gantt chart calendar, if you wish.
Integrating your Google Calendar with online Gantt chart software, Ganttic, only takes three steps. But doing so will allow you to have a visual overview of several calendars, synchronized information with your team, and a perfect planning tool. Read on to find out how to make it happen. It's super easy!
Google Calendar for Project Management
Gantt charts are the preferred method for many project managers. That's because the best online options have features such as drag and drop scheduling which it easy to update plans quickly and on-the-fly. As well as built in metrics such as resource and task utilization, measurements which help make more informed decisions and promotes healthier team dynamics. Plus, customizable data fields help manage projects and teams, by providing a way to organize, filter, and group via the data that matters to you.
Dedicated project management software has features that GCal lacks. But they come with caveats. Maybe you don't want to deal with manually migrating your data to a new platform. Or perhaps you don't have the time to teach your team how to use a new tool. That's where a Calendar integration comes in.
With a simple sync, you can import your most important Google Calendar events into a dedicated online Gantt chart. And you can do the same for your team. So they can keep on using GCal as normal, while you reap all the benefits of a proper project management system.
Now, let's get to the 3 steps.
Turning Google Calendar into Gantt Charts: Easy as 1,2,3…
1. Add a resource
To turn plans made in Google Calendar into Gantt charts, you have to have a resource to schedule tasks for. If the resource already exists, you can skip this step.
TIP: Resources can be anything you plan with: equipment, people or facilities. So make sure to add everything relevant to the available resource pool: yourself, your designer, your company's minivan, a meeting room, a projector, or a phone line.
2. Set up Google Calendar sync
Now that you have your resource, you should sync it with Google Calendar.
In Ganttic, you can choose between one-way sync and two-way sync. We'll explain what these mean.
One-Way Sync
One-way sync is a good idea if you don't want any data coming from Ganttic to Google Calendar. If you are syncing your data with an existing calendar you might want to consider one-way sync.
Two-Way Sync
With Google and Ganttic two-way synchronization, we export the existing data from Google to Ganttic and vice versa. Two-way sync is the one for you if you actually want to do some planning with Google Calendar and create Gantt charts of plans made in GCal. Any changes you make to the plans will be synced to Ganttic for others to see.
If you are using a two-way sync, you can make changes to your team's plans by reallocating resources in Ganttic. The plans will be updated in Google Calendar as well.
Remember: To turn Google Calendar events into Gantt charts, you must choose two-way sync. That way the events in your Google Calendar will be synced to Ganttic.
Contact us if you are having trouble deciding which sync is best for you. Our friendly Helpdesk can go through the steps with your and steer you in the right direction.
3. Schedule events in Google Calendar
That's it! Use your Google Calendar like you normally would. No extra steps are needed. Just make sure you are adding the events to the calendar that you synced your resource with.
The events will sync to Ganttic and you have successfully turned events planned in Google Calendar into Gantt charts. So with a few simple steps you now have:
It really is as easy as one-two-three.
Benefits of Integrating Google Calendar & Ganttic: User Case Studies
There are many advantages to integrating your GCal with resource management software such as Ganttic. We have more than 10 years' experience with Gantt chart planning, and the combination of that with Google Calendar has helped a lot of our clients along the way. Here's just some of the benefits we've seen when you merge these two powerful tools:
No More Mistakes
Boosts your planning process through better communication. This integration is a transparent and efficient way to involve all your resources within one centrally located platform. Plus, this is a great way to compare work tasks and see them next to personal plans. Making it more obvious if changes are needed.
Simple AND Effective.
Matt Scheller from Fraser Magic says,
"A normal calendar is not really useful for resource allocation and fully fledged planning tools are too complex."
But the combination of both gives you the best of both worlds, without also having to deal with new, complicated software. Syncing the two programs allows team members to see all of their assigned tasks alongside their own personal calendars. There's no need for your field workers to learn another program or switch between different views to find the tasks assigned to them. Those will be in their personal calendars already.
Grows with You.
Allison Stroebele from Pure Technologies said that before using Ganttic, her company was,
"using a combination of Outlook Calendars and Excel spreadsheets at the time, but were quickly outgrowing these scheduling tools."
Because you can integrate Ganttic with your personal calendars, you'll have the right tools for whatever amount of resources you have. When your company grows, the tools will grow alongside you. So instead of holding you back, they'll help you succeed.
Tip: If you're sick of spreadsheets as well, you might want to consider replacing Excel in your workflow.
Quick and Easy
Planning is immediate. Anything you add to GCal will appear in Ganttic straight away when you decide to sync the two. That means all your previous Calendar planning will transform into a Gantt chart right when you need it. There's no waiting. So you can immediately get started on those plans.
And whenever you want to stop the sync, you can. With nothing to migrate or manually move in the process.
Gantt Chart Overview + Google Calendar's Accessibility
Google Calendar and Gantt charts really are a match made in heaven, aren't they? If your team is used to making plans for themselves or time blocking in Google Calendar and you don't want to do any extra work, tell them to sync the events planned in Google Calendar to Ganttic. You can also use it yourself to book your important meetings and fill your time slots.
If you're looking to link Outlook Calendar as well, we have instructions for you. For other programs, ask our support about Ganttic API, which gives you full control over integrations. And helping you customize your workflow exactly as needed.
Create your own Gantt chart Calendar.