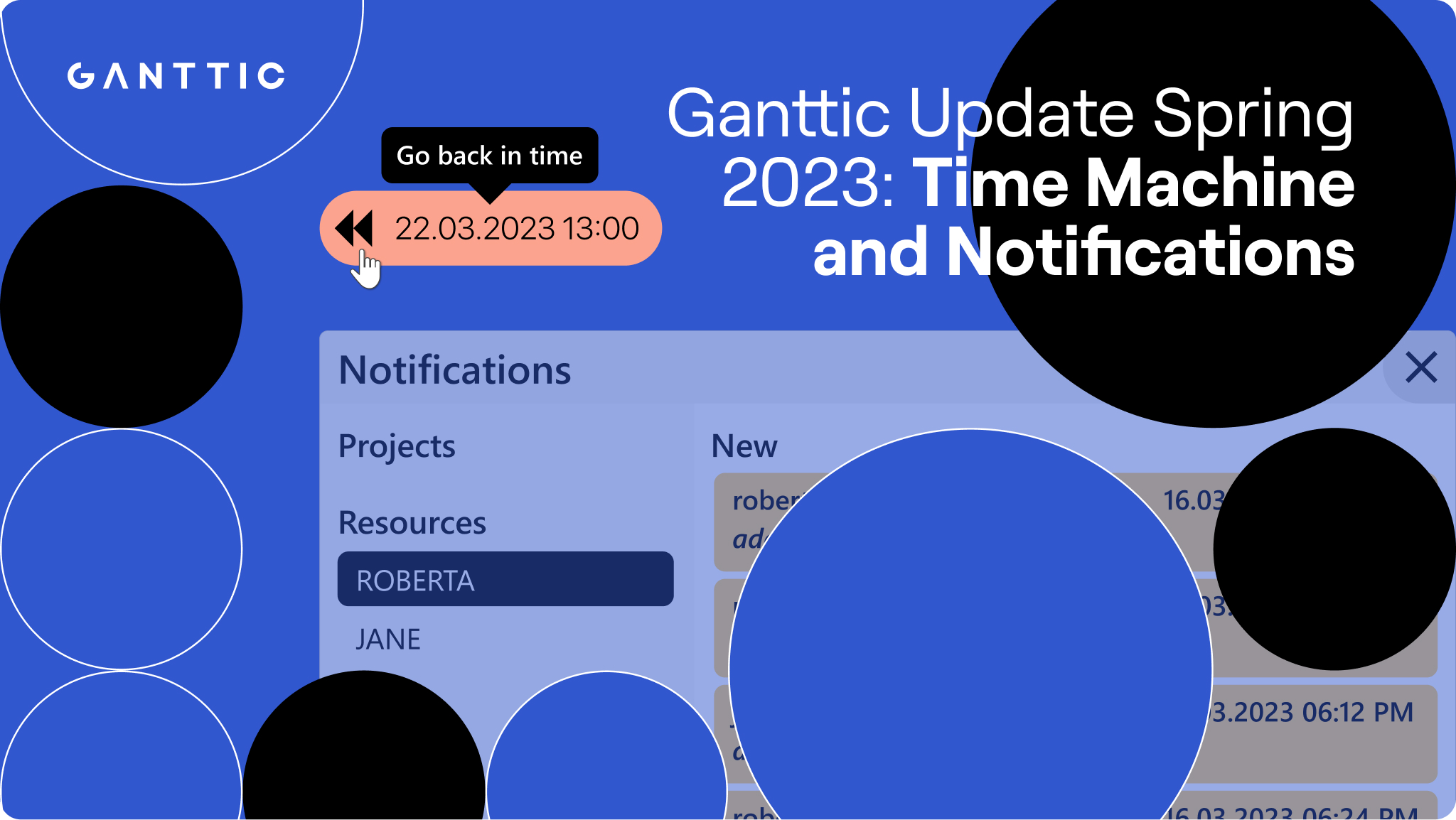 Our first big feature update of 2023 is here. And since spring is just around the corner, we also wanted to keep it fresh. Here's a look at all the recent additions to Ganttic. With details on our Notification overhaul as well as our new feature, Time Machine.
What's New in Ganttic?
If you've looked at your planner, you might have noticed a change or 2.
First of all, we've added some new ways to get notified, keeping you up to date with all planner changes. Including a long-requested addition of Project Notifications. On top of that, we've implemented a brand new Notifications Center with ways to create a play-by-play rundown of changes and updates.
Secondly, we added a new feature called Time Machine. While it's still in its beta form, we wanted to roll it out now to see how you like it. As well as gain some feedback on what can be added to it down the road.
Send us an email or hit us up in the app. We love user feedback and hearing what you have to say helps us with further feature development.
Now let's dive into the updates.
Notification News
We know that resource scheduling can change from one moment to the next. That's why it's imperative that you (and anyone else for that matter) can stay up to date with everything that happens. That's where Ganttic's Notifications come in.
In our previous updates, Notifications are email alerts that are sent out whenever a Task is updated, created, deleted, or a Note was added. Notifications can even be sent out to other team members. Or even non-users.
But up until now Notifications were always Resource-based. And the only triggers were based on changes to a Resource's Tasks. But for project managers and their team members out there, you've asked and we've listened. That's why we're happy to introduce Project Notifications.
Project Notifications
Project Notifications revolve around a Project's related Tasks. So if a new Task is assigned to Project, or one is removed, then all of the people involved in the Project can get an alert.

There's different ways to trigger Project Notifications. Choose from:
A new Task is assigned to the Project
An assigned Task has changed
A Task is removed
A Note is assigned
The Project name or data field has been changed
A Note is added to the project
Once the criteria for being Notified is decided, you can also select specific conditions. Conditions are based on Task Data Fields values. For example: Set up a Notification every time a Task is updated to "Completed" or when there's a delay.
Finally, you can decide how you and your team members are alerted. Do you want all managers to get an email, while field workers see a pop up in the web app? Or vice versa? You can even ensure that non-users are notified of the changes.
The choice is yours how Notifications reach those it matters to. And to that, we've even thrown in a few extra options in the next part of this update.
New Notifications Center and Notifications on Computer Options
What happens if you want to stay up to date on plans while also cutting back on emails? If you're aiming for "inbox zero" then you'll be happy to hear that our latest update has got 2 new ways to receive a notification without clogging your inbox.
NB! In order to get alerted and stay up to date on a Resource's Tasks, make sure that you set Notifications up. Read more in the Help Desk about activating Notifications.
Notification Center in Ganttic
If you select the option Notify in web application, then anytime someone else makes an update to the Task, you'll be alerted right away in Ganttic. These updates can be spotted on the Notification icon in the upper right corner on the planner. With the number indicating how many new Notifications you've gotten since opening the brand new Notification Center.
When you click on the icon, the Notification Center will open. Here's a rundown of all the latest updates to the Projects and Resources you've set Notifications for. When it's yellow, it's new. But you'll always be able to see the past updates as well.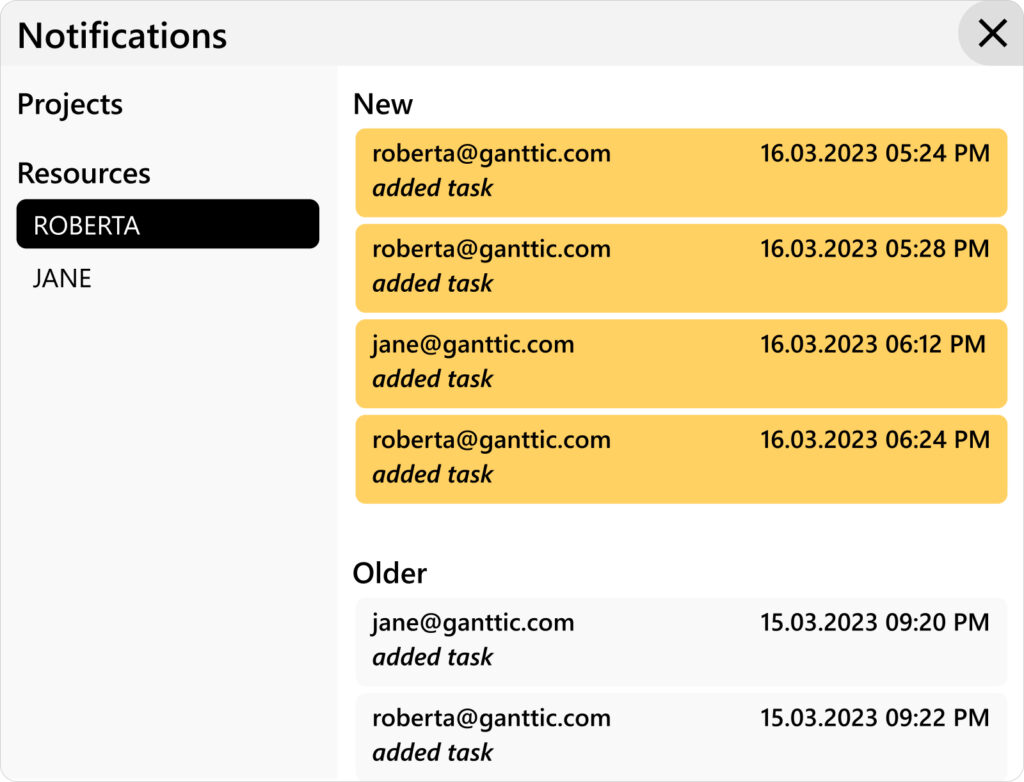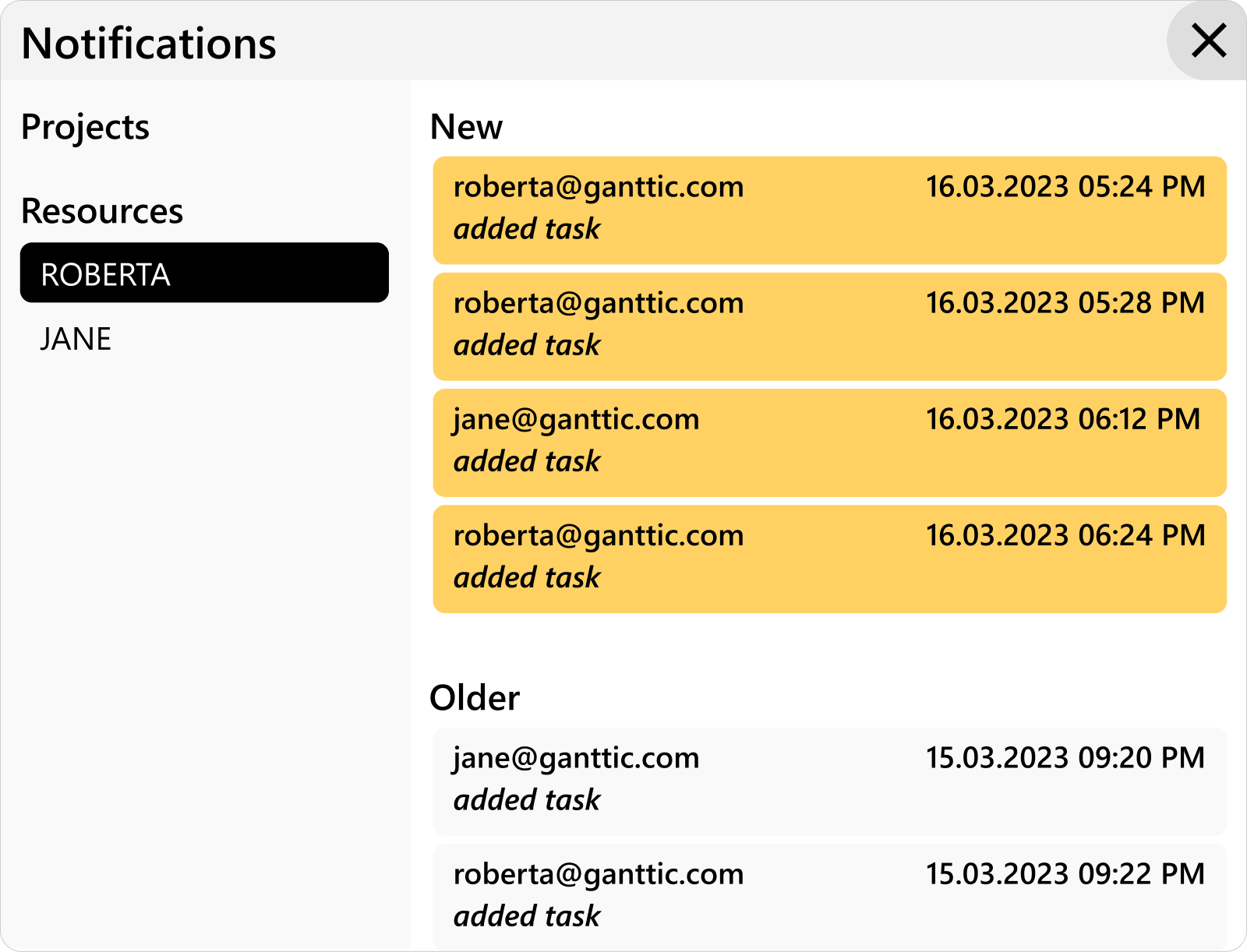 Alerts on your Computer
In addition to the new Notification Center, you can also be alerted on your computer. By clicking Receive notifications on your computer, even if Ganttic is not open you'll get a popup alerting you to the updates.


Meaning you'll know exactly what's happened if you step away from the computer. And other users don't have to stay glued to their planner or inbox anxiously awaiting the changes.

Just make sure you select Allow Notifications from Ganttic in your browser's Settings.
How Will This Update Help You?
With this update, you'll be able to stay up to date with Task changes without eating up your inbox's storage space. Plus, if you set up the Notification so that the person behind the Project or Resource is alerted, then you can ensure that they know when their job changes. All without you having to send them a heads up on Slack or via an email chain.
So go ahead and get to the spring cleaning of your email. And don't worry about clogging it up again.
New Feature: Time Machine
Now for the even bigger news! Ganttic is rolling out the beta version of a new feature called Time Machine.
With it, you can rewind to specific points in your planner. Allowing you to compare then and now. Think of it as a way to visualize your planner's Task History Log.

Not sure exactly when a Task was changed? Or is a job missing that you were sure was there a day ago? Use the Time Machine to see what could have been. And change your plans back to the way they should be.
As we mentioned, Time Machine is still in its infant stages and we plan to release a lot more updates to this feature in the upcoming months. So right now, you can only see changes to Tasks. If you need to see what happened to archived resources' tasks, you'll need to unarchive them first.
Check it out now and see where it takes you.
The Future of Time Machine
Time Machine opens up more opportunities to track down changes and revert unwanted changes.It's a visual rundown of your planner's activity and history. Making it possible to go back to your plans at an earlier point in time so you can correct the mistakes.
But with Time Machine, we're also setting the stage for more powerful planning capabilities.
If you see any additional uses where Ganttic's Time Machine might come in handy and you want us to implement them, let us know. Or hit us up and tell us what works, what doesn't, or if you have any questions on its use.
You can always book a free demo with us if you want to discuss a specific feature usage.
Spring into Better Planning
The dark days of winter are gone and we can focus on the sunnier part of the year. Stay tuned for more updates. Not only regarding Time Machine, but some other big plans we have in store. Follow us on Twitter and LinkedIn for more news and tips.
Happy Planning!
A resource planner built with users in mind.