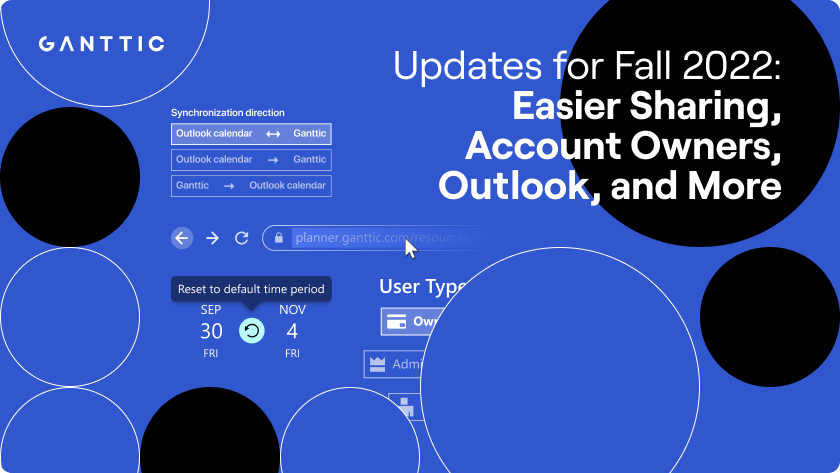 We've been working hard improving our app recently. And as such we've rolled out a few smallish updates – that added up, will hopefully lead to some big (and positive!) changes for users.
It's really a mixed bag of changes – everything from "quality of life" updates, to a new User tier, changes to Outlook sync, and more. Find out what's new, what's improved, and how to get the most out of all the updates.
Updates to Ganttic for Fall 2022
Here's a rundown of everything that's new. We'll go more in depth below.
Share Any View with Other Users
Navigate with Browser's Back and Forward Buttons
New User Tier – Account Owner
Resource Add/Edit Rights
Time Period Reset
Updates to Outlook Sync
Share Any View with Other Users
For starters we've made it easier to share Views with other users. Now, every View and Time Period has its own unique URL.

Meaning if you need your co-worker to be looking at the exact same Gantt chart schedule as you're looking at, just send them the copy/pasted link. The same View you're looking at, can also be seen by any other user who's logged in as well.
Navigate with Browser's Back and Forward Buttons
The next one is an often-requested "quality of life" change. The back and forward buttons on your browser can now be used to navigate your Ganttic planner.

Need to double check a View but was interrupted half-way through? Just hit the back button to get your train of thought back on track. You'll see your complete navigational history since the last time you signed in.
TIP! If you hit Refresh at any time while in the planner, the back and forward sequence may be interrupted.
New User Tier – Account Owner
Next up, we added a whole new tier of Users – the account Owner. From now on, only Owners will have access to the Account page. And only Owners will be able to upgrade and downgrade their subscription plans.

Going forward, all creators of the account will be designated an Owner. And only Owners can add other Owners (along with Admins and Users).
But so as not to affect our current clients, all Admins will be automatically relegated to Owner. Congrats! If you'd like to change this, just head to your User data settings.
Resource Add/Edit Rights
Speaking of Users and their rights, we also added a new category of permissions concerning Resources. Under Resource rights, you'll find the category of Add and edit resources.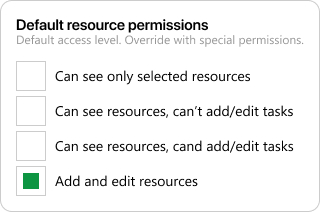 That way, you can decide if Users can change up Resources, as well as Resource Data Fields and any assigned Tasks. Allowing some Users to easily update their Data Fields and information, as well as any work assigned to them.
Time Period Reset
Another smaller, "quality of life" update. Now in a View (both Custom and Single Project Views), after the visible Time Period is changed, you can easily switch it back to the View's default Time Period with the push of a button. Just click the Time Period Reset button that appears on the Calendar.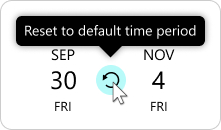 This little change will make it easier to check out what's coming, before quickly resetting plans to your default. Allowing you to look ahead without worrying how to get your Time Period settings back the way you like it.
Updates to Outlook Sync
Finally one more, and it's a big one! You've been asking for it and we're making good on our promises.
We've added more options to our Outlook Sync. Now depending if you go one or two-ways with your syncs, you can also sync up Task and Project names from Ganttic as Event titles in Outlook.

More ways to stay on top of your jobs and ensure your team members do as well! Check out more tips on synching your Gantt charts with digital calendars like Outlook or GCal. 
Fall into Better Planning
Here's hoping that these small changes can make some huge impacts to your Q4. And as the year wraps up, we have some other big changes on the horizon. Stay tuned to our blog for all the updates or follow us on Twitter and LinkedIn for announcements and useful planning tips.
Happy Planning!
Check out all the latest updates that make resource planning even better!