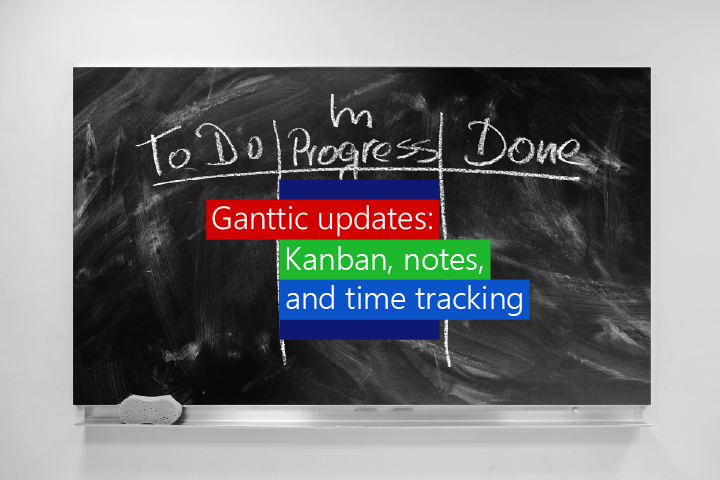 The beginning of September always brings new changes. School starts. Leaves fall. And we wave goodbye to the summer holidays. Welcoming the last phase of the year.
Here at Ganttic we have quite a few new changes ourselves. And our latest update will hopefully enhance how you meet your organization's 4th quarter goals.
We have three new features available now that can help how you organize, view, and work with your plans. These include:
Kanban boards – in your project list for a different planning experience.
Notes – have been updated throughout the entire planner with a clearer indication when new notes are added to tasks, projects, and resources. Providing better coordination for your teams.
Used Time – for tasks to keep track of progress and connect with time tracking tools.
We'll show you exactly where to find these updates in your planner and how you can start using them right away.
Kanban boards in Ganttic
In addition to Gantt charts, Kanban boards are a commonly used method to get a quick overview of the projects you're working with. And now Ganttic has the ability for users to utilize Kanban-Gantt hybrid planning.

When you plan projects that include list-type data fields, you can now choose how you'd like them to be organized. This can be a standard Project list (the default view up until now) or in a Kanban-type table. In the latter style, the projects are displayed under the data fields they are connected with.
For example in the screenshot below you can see how all our projects are presented in the List view. All the data fields and their values are shown as well.
If you were to choose the Kanban View, you can zero-in on the data fields attached to the projects. For example, in the below screenshot, you can see the same projects displayed in the columns of their attached data fields.
Not only does this help hone-in on the specifics of your project and eliminate some of the extra noise, but you can use this layout to make different decisions. Drag and drop projects between the columns for quick changes. See your projects from a completely different angle. And find the right planning style which fits your projects.
Kanban boards are only available in the Project List View right now. And can only be used if there are list-type data fields attached to the projects.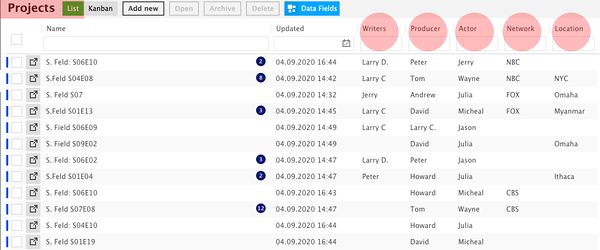 If Kanban planning is something you'd like to see for your resources, reach out to us and let us know. We love getting feedback on our new features and it always helps to know what our users are looking for.
Improved Team Communication with Notes
The next feature that got an update is Notes. Now, when a new Note is added to a tasks, projects, and resources a round bubble with a number will appear next to the name or on the corresponding Taskbar.
The number indicates the amount of notes added. If you personally add the note, it will appear blue, but to all other users, new notes will be red. Highlighting that new information has been added which they might want to check on!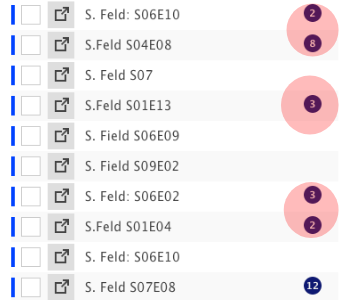 Opening the Note can be done quickly by just clicking on the Note notification icon. Doing so will also change the color back to blue, showing that you're up to date with the changes.

You can check out this Note feature in the Resources and Project Views, as well as Resource and Project Lists. This is a handy way to keep your teams in sync and make sure everyone has access to the most up-to-date information.
A note on Notes. You can override this new feature in the General Settings. But only for the Taskbar Notes. New Notes will always appear red until they have been opened.
Better Time Tracking in Used time
Our last update has to do with Used time for Tasks. There is now the possibility to add your used time in intervals, as opposed to one total sum. These intervals will appear with the user who entered the data as well as the date it was added. Having this history of Used time will help those who are interested in better time tracking and more efficient task utilization.

In addition to these time intervals, there's now the possibility to add a description of the used time. Maybe only 4 hours were spent one day instead of the usual 8. Add a short description right away so you won't forget why.
Not only does this update make it easier to keep track of the time spent on tasks, but it can also be useful if you have Ganttic integrated with another time tracking software. For example, if you're utilizing Ganttic API alongside your favorite time tracker, then this Used time can be more easily integrated between software systems.
Here's to Changes
There's always something invigorating about the turning of the seasons and the new feeling in the air. Hopefully with these updates you'll see some positive changes to your planning process as well.
Let us know if you have any questions about these updates or if there's any other feature you're on the lookout for. And stay tuned to our blog and social media for more updates and helpful tips.
Happy fall and happy planning!
Mix Kanban boards and Gantt charts and create your own ideal workflow.