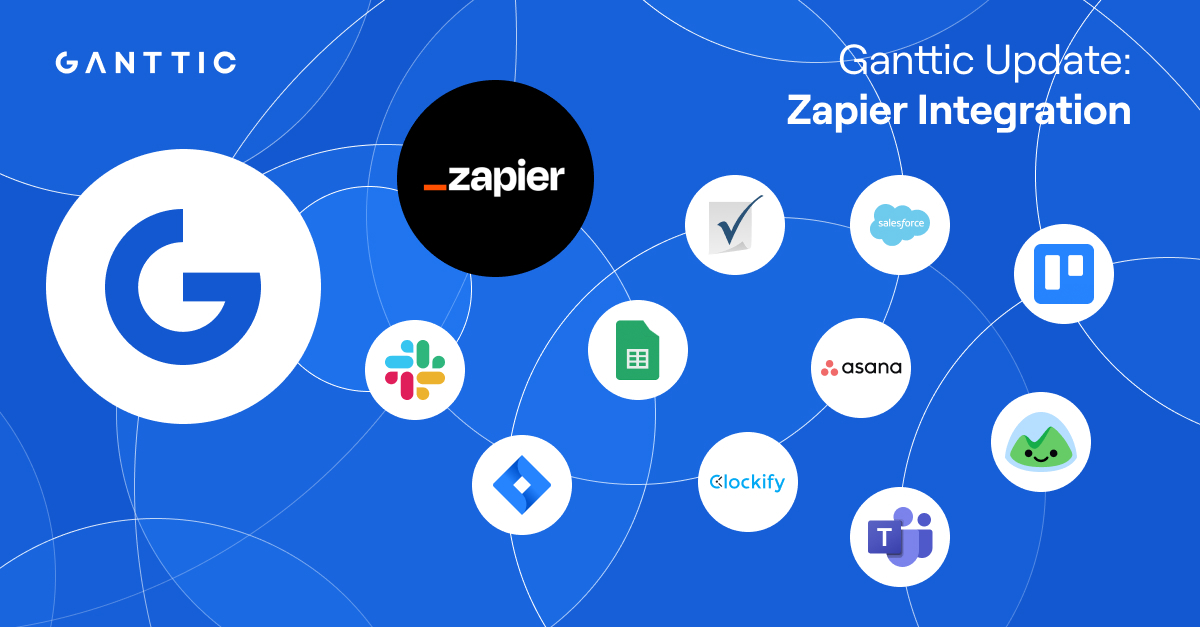 Our latest update brings in a myriad of new ways of integration with Zapier. Read on to find out how to get started now!
Zapier Integration with Ganttic
Since the release of Ganttic API this past spring we've been providing users with more and more ways to link their Ganttic planner with other tools. And now you will have another opportunity to do so. With our recent integration with Zapier.
Zapier is "an online automation tool that connects your apps and services." With it, users can connect 2 or more apps together. This then automates tasks without coding or the need to rely on developers.
This development should be some good news if your company lacks an IT department or they're too busy with other tasks. Because now you can use Zapier, instead of an API, to link Ganttic with your other work apps.
How to Use this Integration
Once you link Ganttic and another tool with Zapier, you will be notified on the other platform, when something happens in Ganttic. For example, if a task is updated in your Ganttic planner, you can receive a notification in Slack. Or if someone deletes a project, then you'll get an SMS.
Anytime a task, resource, or project is added, updated, or deleted in Ganttic, you can get a notification on the platform of your choice. Facebook, Skype, Slack, whatever you choose.
Conversely if you add a task, resource, or project on another app, it will appear in Ganttic. For example, if you add a task to your Trello board, Jira, or Google sheet, it will also show up in your Ganttic planner.
Do note that with this way of syncing, going from another app to Ganttic, there are limitations. If you change or delete the task, resource, or project, the 2 platforms will unfortunately go out of sync.
Even though Zapier is great if you're too busy to code, it does lack the power of Ganttic's API. To get the full benefit of Ganttic, try linking with our API.
Need some help to get started or have a question? Contact us.
How Will Zapier Make Resource and Project Planning Better?
With this integration, you'll soon see how your planning processes will improve.
More choices – Use Ganttic with more apps than ever before. Now there's thousands of apps to integrate with Ganttic Quickly, easily, and securely.
More flexible – You choose how you get your information. The only limit is your imagination.
More control – You have oversight over your team and your plans. Monitor and track changes from new platforms.
All of these add up to more intuitive planning that can be customized to fit your working style and needs. That's unlimited tasks, projects, and resources that you can integrate with your resource planner and a convenient Zap.
Zap your plans into action
More changes are rolling out all the time, so make sure you stay updated. Keep an eye on our blog, Twitter and LinkedIn for all our new changes and helpful tips.
And let us know if there's something else that would make your planner better. Leave a comment below. Or reach out and give us a shout.
Happy planning!