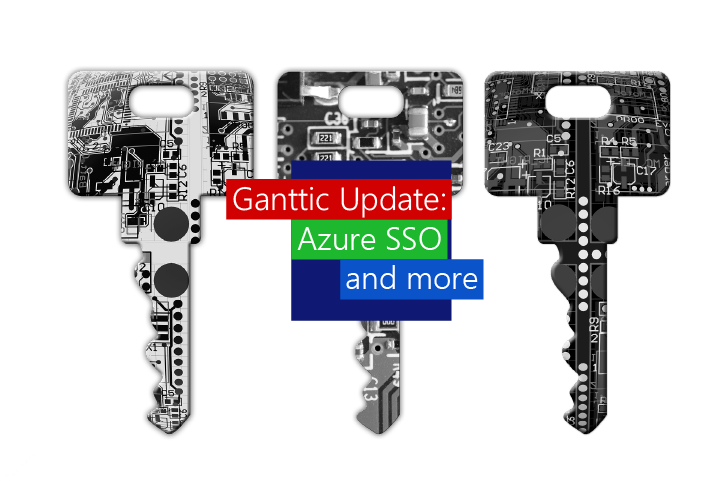 Autumn is here and it's the time to reap what you've sown. Luckily, Ganttic is making it easier to sow those plans for you. With our latest round of updates we've added 2 new features. These will improve your planner's access and security. And provide users with a way to take customization to the next level.
Read on to see what we've added and how they'll help you be even more productive.
Microsoft Azure SSO integrated with Ganttic
Since we added Onelogin's SSO this past spring, we've received tons of feedback asking when we're planning on adding more options. Well, the time has come. You've asked and we've delivered!
Ganttic is now integrated with MS Azure. This gives users the ability to log in to their planner more easily and securely. And drastically cuts the amount of passwords you have to remember. Here you can check out some additional reasons why SSOs are useful for project management.
Just as with Onelogin, you can take advantage of this integration if you have a PRO Ganttic account and are an Azure user.
To get started with Azure in Ganttic, just click "Sign in with Microsoft" when you open your planner. As long as you're already signed into Azure and it's the same email address as your Ganttic account, you're good to go.
If there are some additional SSO options you'd like to see, Just shoot us a quick message and let us know!
Resource Profile Icons
Our 2nd update will not only make your planning clearer, but potentially more fun! You now have the ability to customize your resources even more, with Resource profile icons.
Resource profile icons are completely optional, customizable images that show up next to your Resources in the Gantt chart View and in the Resource List View.

We've included 20 different images to pick from (in a variety of colors). But if you want to make it more personal, you can upload your own image. Just click the custom image box and make your choice from your local hard drive.
Likewise, if you have 2 resources with the same name, instead of getting confused and scheduling the wrong one, take a peek at their picture and choose the right one.
Pictures can tell a story a lot faster than a lengthy email chain. So take advantage of this new feature and add some personal flourishes to those plans.
Fall into better planning
It's the time of year for changes. So make sure you stay updated by keeping an eye on our blog, Twitter and LinkedIn for all our new changes and helpful tips.
And let us know how these changes are affecting your plans. Send us your feedback. Or let us know what else you'd like to see changed.
Deliver an accurate picture of your plans.
Start now for free.