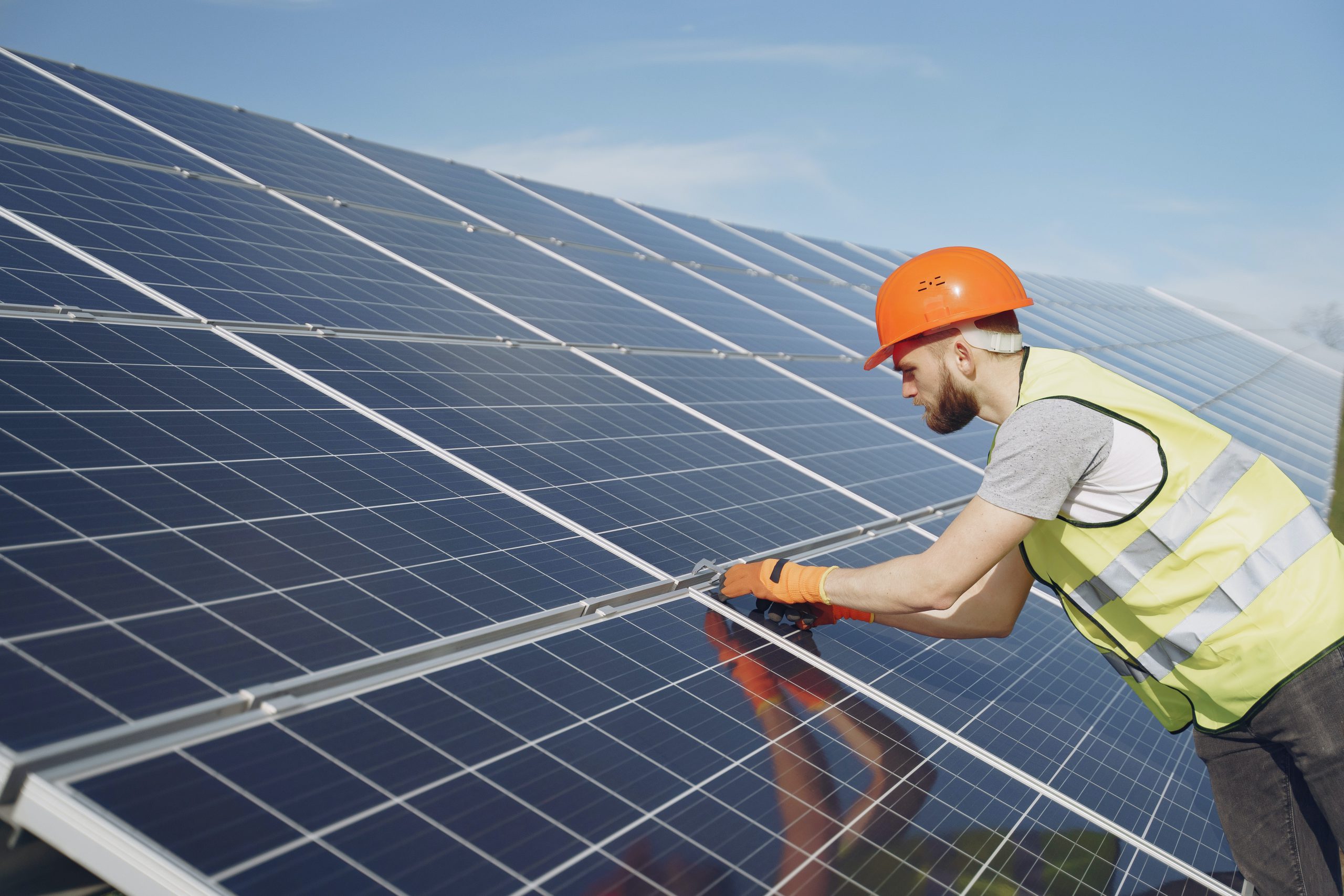 Excel is a powerful tool. Versatile and flexible. It has so many applicable uses. But maybe you crave something that can give you the flexibility of spreadsheets with none of the hassle? If that's the case look no farther. We've rounded up 10 great pieces of software which just might be the alternative to Excel you're looking for.
Project Management in Excel
Microsoft Excel is an irreplaceable office tool for many. Right up there with the communal office coffee pot, printer, and whiteboard. But maybe take a closer look at that equipment.
In the time that you've been working at your office, have you ever seen anyone clean that coffee pot? And isn't that office printer constantly getting jammed (not to mention pretty useless in the age of remote work). And who's even using that whiteboard? It still has doodles and messages from Stan's retirement party last year.
Maybe your office equipment needs a refresher. And maybe the same goes for Excel.
Because who wants to use a tool that clunky, outdated, and not really suitable for project planning? If that sounds like you, then keep reading. And discover some tools which will make you forget all about those spreadsheets.
10 Alternatives to Excel
We made it easy for you. And compiled a list of 10 of the best alternatives to Excel. Plus, many of them come with free trials, so you can get started right away. Check them out!
1. Ganttic – Resource Planning Alternative to Excel
Ganttic takes everything you love about spreadsheets (visual, easy to get started, flexible) and pairs it with proper resource and project management features. Meaning that it will not only help with the initial plans. But it will make the process easier. Eat up less of your time. And help you reach a better resource efficiency.
Features such as drag and drop scheduling, let you create tasks or make project changes in record time. Monitor your resource and task utilization, to get the best use of your resources, while also making sure that no one is carrying too much of the load. And with an easy to navigate timeline, you can plan for the here and now, or do some long term forecasting.
Plus, Ganttic is shareable with an unlimited number of users. That plus the cloud-based app ensures that your plans have full transparency, without having to pay for hundreds of extra licenses. You can even sync your Gantt charts with Google or Outlook Calendars, so you'll know that your whole team is in the loop.
The best part? You can try Ganttic for free!
2. Google Sheets – better price and collaborative opportunities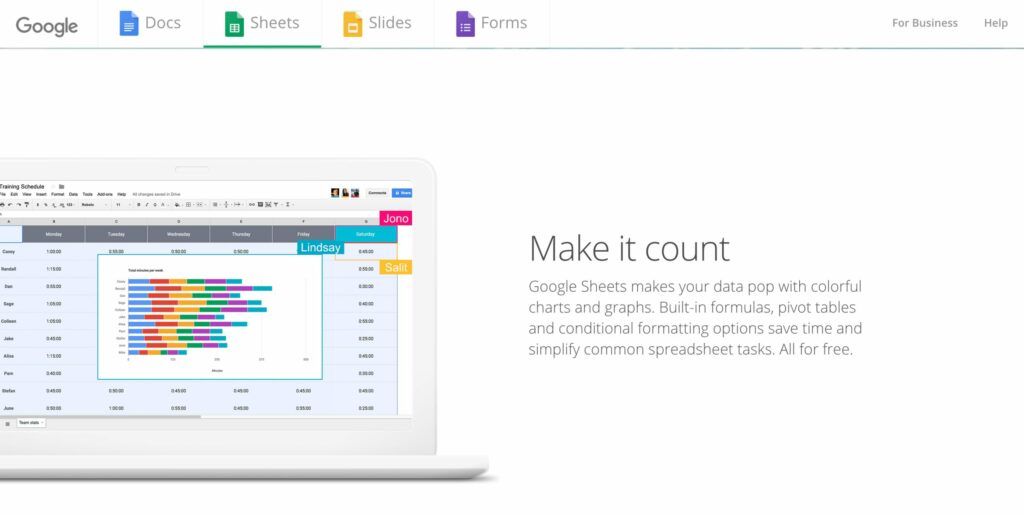 If you are a master at using Microsoft Excel, you're pr you may also consider yourself a guru of Google Spreadsheets. The features of both are pretty identical, with the advantage that Google is free of charge. Another edge that Google Spreadsheets has over Excel is the opportunity to collaborate with your team in real-time. All files are shared with the necessary people who can either view or edit the documents.
Google Docs and Spreadsheets are cloud-based and thus accessible from anywhere. You just need the Internet and your device and you're good to go. Files can also be downloadable for offline use.
One con of the software is it's lacking in some of the higher data processing capabilities. Especially for your big data. And if you go back and forth from Excel to Google sheets, you might run into some formatting errors along the way.
But, if you have Gmail, you can already access Google Sheets. Meaning there's no time to waste on set up or a steep learning curve.
3. GanttPRO – Gantt chart project manager alternative to Excel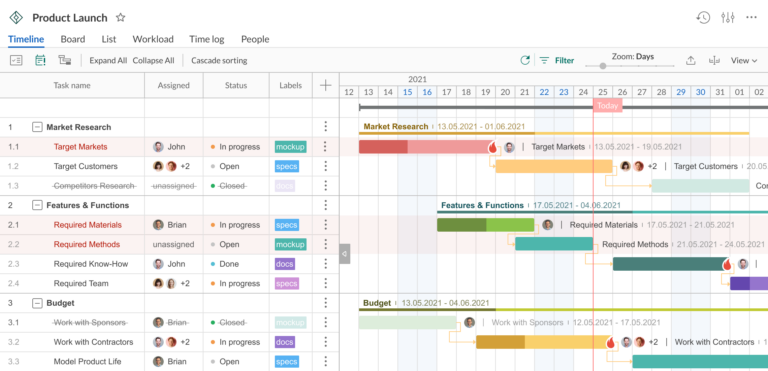 If you are serious about project planning, scheduling, and management, and you have no time to learn a tool for weeks, as it happens with Excel, go for GanttPRO.
GanttPRO is a Gantt chart-based project management tool with robust features and an intuitive interface. It's no wonder why many so users consider it one of the best MS Project alternatives which is, as you may know, another great tool by Microsoft.
With GanttPRO, managers and teams stay organized and are aware of every task and its progress. The software helps divide projects into smaller, easier to manage tasks, set dates, statuses, and priorities, and assign tasks to team members.
Besides a Gantt chart timeline, you can switch between other views. So far, they are a Board view and My tasks list.
4. Workzone – task manager alternative to Excel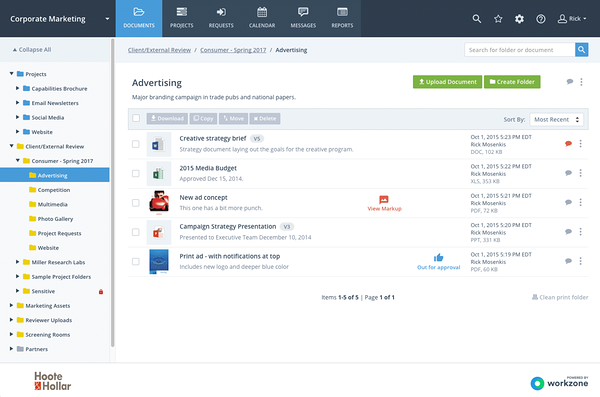 Stay organized at work with Workzone. This tool helps managers and their teams organize projects by tasks or subtasks, set main priorities, assign responsibilities, and have a real-time overview of the project process. Priorities help the team and project manager to react quickly to emergencies and keep an eye on the critical issues. While simultaneously ensuring that all other work is under control.
Workzone helps users see which projects are on track and which ones are lagging behind. This way you can actually set your focus on what is needed.
5. Scoro – powerful project management dashboard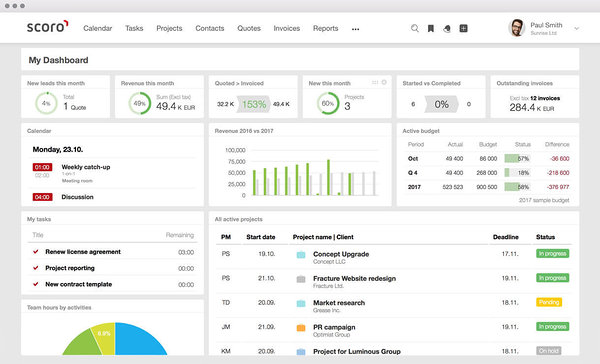 Enough with the shuffling between apps to get things done. With Scoro, the time you needed to switch between multiple programs and find the right channel can now be used to focus and concentrate on your work. Because everything comes together in Scoro.
With its detailed dashboard, you get a great real-time overview of your project, work, and financial KPIs. Scoro helps you analyze data as well as integrating with third-party applications. Chaos becomes structure, past experience helps to predict the future, and gut feelings are replaced by knowledge and data talks. Get ready for more insightful visualization.
6. Redbooth – personalized project timelines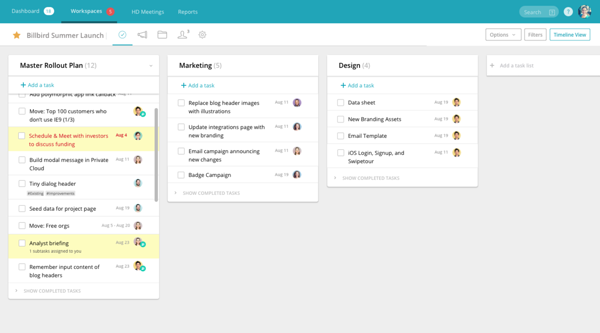 Redbooth gives you great team space. "Organized work, better teams" as they say. And they're right. Redbooth helps you plan with its personalized, visual dashboard and project timelines. An overview of dashboards gives you a better understanding of project statuses and if needed, your team is just a call away. Because, you can even schedule a video meeting with its software. Making it not only a great alternative to Excel, the perfect accompaniment to your virtual team.
Info can be converted easily so Redbooth helps you manage your team collaboration as well track your project.
7. Quip – collaborate remotely with ease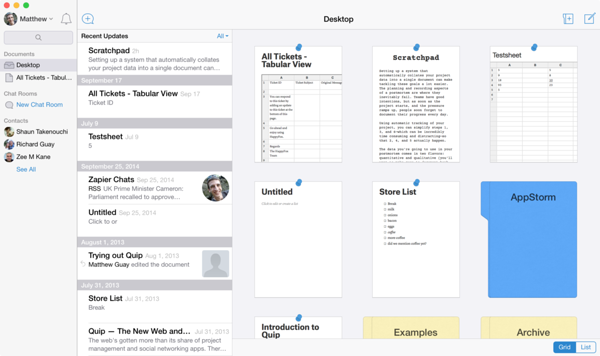 Fewer emails and fewer meetings help to raise productivity when info is given more effectively. And Quip can help with this. As an alternative to Excel, Quip has docs that are actually live versions of what your team's engaged in. These are visible for everyone to view and edit.
Forget the "it's your turn to edit" talks. Social engagement in Quip encourages every team member to contribute more to the tasks at hand. Quashing those managerial challenges, and letting your team get on with what's important.
Quip is fueling the culture of action- the fact that things can get done faster, all in one place and more productively.
8. FreedCamp – track and achieve goals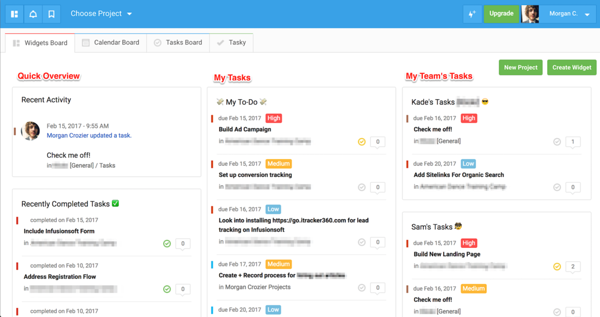 Plan. Discuss. Achieve Goals. Succeed. Understanding the plans and project timeline is essential to completing your project. With Freedcamp you have the opportunity to reach your project's milestones and take advantage of those little "wins." Now you can get everything done. And in one place.
FreedCamp gives your team effortless collaboration. At the office, at home, or on the go!
9. Mavenlink – manage financial performance with sleek software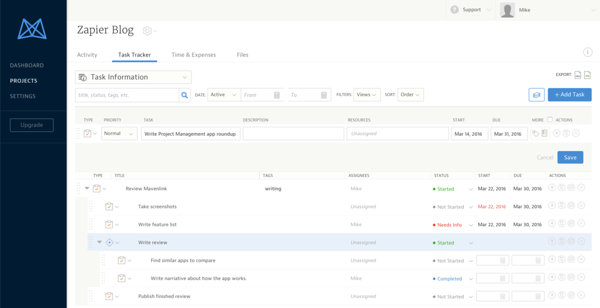 If you have operational and financial performance as your main focus, Mavenlink might be a helpful collaboration tool. When managing a team, clients or a project, data is always talking to you. Mavenlink helps you "talk back" to your data and use its knowledge to your advantage. Using those insights to bring together people, projects, and profits.
Once you have created a project template, you can even use it as a base for your next project.
10. Microsoft Project – classic, no-frills project management tool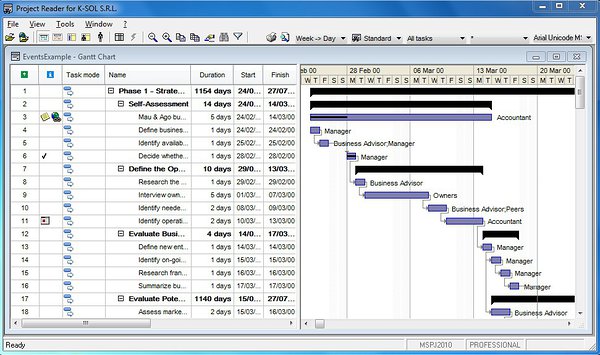 Microsoft makes really amazing tools. There's no doubt about that. Here is where we need to give credit to Microsoft Project – a simple and powerful tool that has reimagined the project for everyone. Smart planning makes the workflows simple. That way, every project can be your ideal project planned with ease.
Deadlines can be easily set to the team members and they are easy to track. Since the team works together in a set way, projects are made to succeed and are under control.
Learn more about Microsoft Project

Find the Best Alternatives to Excel for Your Unique Needs
To sum up, Microsoft Excel indeed has the power to handle countless amounts of data. And even perform miracles for your company and customers. However, it isn't always the best way to plan your project, manage your sales, or make accounting decisions. Because it was designed as a one-sized fits all solution, Excel isn't the best tool for more unique business needs.
Are you still using Excel for project management, resource planning, or Gantt chart visuality? Just keep in mind, there are other cost-effective and way more powerful tools which offer better visibility and control over your project. And there's plenty of great options out there once you finally decide to replace Excel.
If you want to learn more, find out how Ganttic can improve your resource planning. Take a tour and or book a free demo. See how resource planning software can make your company more organized, sustainable and efficient.
Find a better alternative.