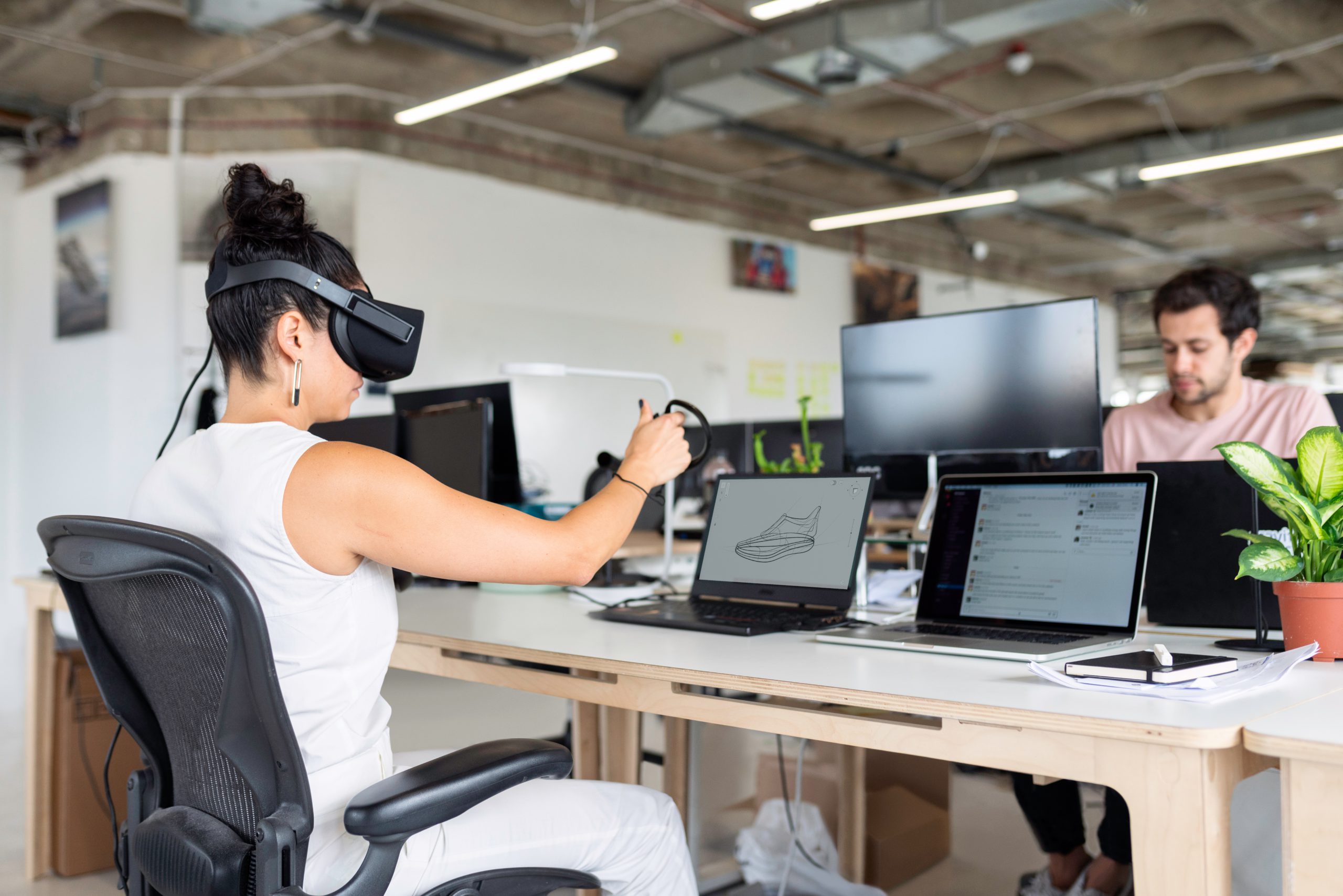 Virtual tools are the key to better managing a dispersed team. Though this doesn't necessarily mean a one-size fits all solution. Because more often than not, you could be left with something that doesn't actually do as advertised.
Think spork.
Promising of doing the job of both a spoon and fork, the flimsy, useless instrument, fails to do either.
The spork makes hard work of digging into your airline meal. And it's not what you should be aiming for when selecting your next perfect tool.
Whether you are the manager of a large global workforce or circumstances have led your team to work from home, technology and tools will help your organization. But they can completely hinder the process if you make the mistake of using the wrong piece of software.
So as to avoid a "spork situation" for your company, this article will give you 22 great tools to choose from for your virtual team management. Broken up into categories on how they can be used, these are all highly specialized for the needs of your virtual team's goals.
Why Use Virtual Team Software?
Virtually dispersed teams are made up of members that are brought together by technology. And the tools they use are imperative to helping members complete their tasks and projects.
Digital communication has come a long way since phones and fax machines, and as such virtual team tools have become more specialized. While this is mostly positive, it can be overwhelming to figure out which tools are the best. Which ones are necessary. And which ones you can skip.
Though some of the benefits of virtual team management software might seem obvious, there are indeed 3 major areas that you should see improvements on, once implemented.
With the right virtual team tool you should notice better communication, organization, and collaboration.
What's the Difference Between Remote Teams and Virtual Teams?
Though the two may seem synonymous, there are some differences in terms of the reporting structure. And virtual teams usually contain a variety of managers, leaders, consultants, and freelancers. Meaning that the software you use to bring everyone together, needs to be highly flexible.
Key Features of Virtual Team Software
The Best Software for Virtual Teams
Here's our list of the top tools and software to manage virtual team work.
Collaborative tools
Project and resource management
Document storage and file sharing
Chat apps
Time tracking and employee monitoring
Virtual team building
Collaboration Tools for Virtual Teams
Since distance has made your office whiteboard obsolete, these tools can take its place. Here are three platforms which give your team a digital workspace and an area to cooperate simultaneously on projects and tasks.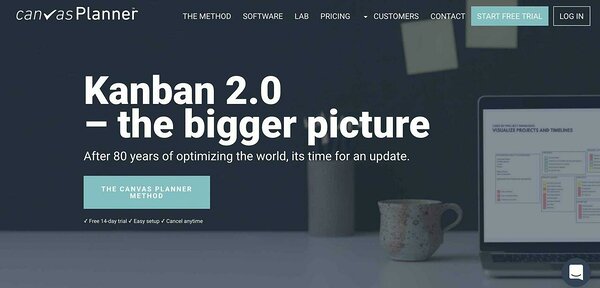 What is it?
When you're remote, an overview of your workspace and team is crucial. That's where Canvas Planner comes in. This software offers a simple and visual space that goes far beyond whiteboards and Kanban. Created with the user in mind, this app is perfect for teams that want to "visualize, organize, and collaborate" together.
Features of this tool:
Keep all your work in one place that can be used privately or shared amongst your team. Link files, images, and tasks on your canvas and move things around instantaneously when changes occur. Check on the status of your tasks in a Kanban style board, or visualize everything on a timeline. Used in a variety of industries from creative, to marketing, and more, you can start a free trial today to see for yourself.
Visit their website.
What is it?
From governments and institutions to financial services, healthcare and technology, clients use eXo Platform as a digital workplace solution tailored to their needs. Connect your employees, leverage collaboration, and empower your workforce in one centralized hub for your team, information, and tools.
Features of this tool:
eXo Platform helps display your files, conversations and business tools, so you can engage your employees and build a better company strategy. Use the software to easily create content pages, consolidate external media channels, and monitor your social media streams. You can also create internal social networks which enable better teamwork and collaboration.
Visit their website. Take the tour here.
What is it?
Self-described as "beautifully simple issue tracking" Lighthouse lets you collaborate effortlessly on projects for any sized team. Focus on what's important with a streamlined design for a faster workflow for ticket tracking and whatever else you need to work with your team on.
Features of this tool:
Keeps your projects and milestones organized in one handy location. You can customize your work using tagging, notes, and an advanced queuing system. Simple to navigate with an activity stream of your projects' progress. Plus, work even on the go and integrate with dozens of applications with their robust API.
Visit their website. Take the tour and try it for free
Virtual Project Management Tools
Project management software is crucial for remote team work. Keep track of all your work – projects, tasks, and resources – with this software. Not only will it help your virtual team stay organized and set up to meet those deadlines, but these tools can increase efficiency and eliminate the need for long meetings, clogged inboxes, and project delays. Even the most successful project managers can use a little help.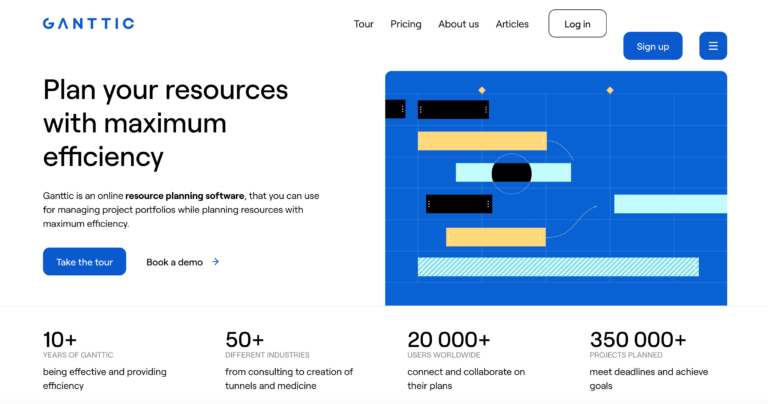 What is it?
A project resource management and scheduling tool that's completely customizable and applicable to all of your virtual management needs – from simple scheduling, long-term project planning and forecasting, and even when managing your project portfolio.
Features of this tool:
Get an overview of all your projects, tasks and resources with colorful and customizable online Gantt charts. Share plans with the whole team, while controlling viewing and editing options. Monitor utilization of your resources and teams and for better balance and efficiency. Quickly allocate tasks and projects in real-time with simple drag and drop. Plus, advanced filtering and custom data fields, lets you group resources and design projects around information that helps you plan better. Wherever your team is located.
The best part? Your team can try Ganttic for free for 14 days. Visit the website.
Watch the video and take the tour here.
What is it?
Redmine is an open source, flexible project management web application. Written using the Ruby on Rails framework, it is cross-platform and cross-database with multi-language support. Used in multiple sectors from education to public sector and private companies around the world – the application also supports dozens of community created integrations.
Features of this tool:
Some of the features of the software include: Multiple projects support, flexible role based access control and issue tracking system, plus time tracking with online Gantt chart and calendars for easy project viewing. Redmine allows for tons of customization – with custom fields for issues, time-entries, projects and users. Plus, there's news, documents and files management with customer support with per project wikis and per project forums. Read the guide here and get started today.
Visit the website. Watch the intro video here.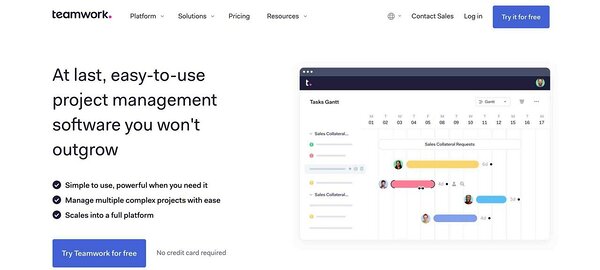 What is it?
Teamwork is a project management software. It's an all in one, web-based platform that can help virtual teams increase productivity and improve collaboration, through transparent task lists, boards and more.
Features of this tool:
Billed as a "single source of truth," ideal features for virtual teams include task lists, Kanban boards, time tracking, project calendars, live chat, project templates and more. In a lot of cases all of these features require different tools, but Teamwork provides them all in one centralized task management platform.
Visit their website. Take the tour here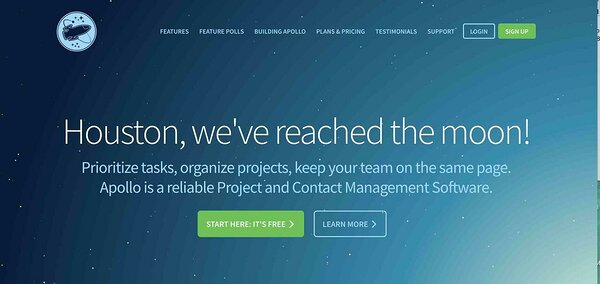 What is it?
Apollo is project and contact management software that's trusted by thousands of people around the world. Comment and collaborate on plans as well as keep tabs on your contacts and leads. Organize tasks by monitoring them or breaking them into smaller pieces for more accessibility and ease of use.

Features of this tool:
Track time, schedule duties, proof images, and much more with this all-in-one software. Use Gantt charts to plan more efficiently, set and meet milestones, and collaborate with your virtual team on projects with "writeboards." Take your planning to the moon! You can try it for free and plans start at 23 USD per month.
Visit the website. Watch the intro here.
Document Storage and File Sharing Apps
Everyone knows about Google's suite of tools, so it seems pointless to include them and take up space from some lesser known virtual tools. Perhaps you're looking for something with more security or industry specific features. If that's the case, these are some great software for storing important work documents or sharing files between your team members.
What is it?
Box offers you "secure collaboration with anyone, anywhere, on any device." Seamlessly collaborate with your virtual team with a simplified automated workflow, utilizing high-grade, secure cloud software.
Features of this tool:
User friendly interface with built-in integrations from Zoom, Slack and Office 365. Get your team on the same page, with their collaborative note-taking tool, Box Notes. This creates one place for everyone to share ideas and allows multiple people to work at once and see each others' edits in real time.
Visit the website. Watch the video.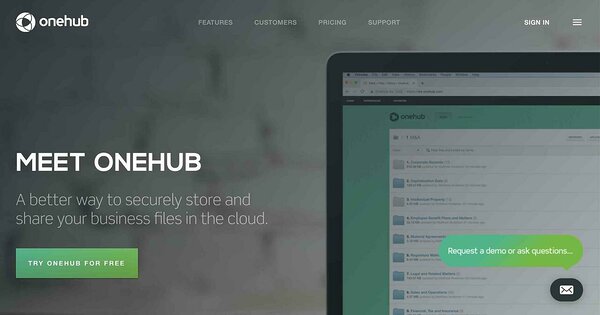 What is it?
A cloud storage solution which allows you to upload files quickly and easily. All on a secure, completely customizable workspace. Edit document permissions for clients and team members and collaborate on-the-go via any device.
Features of this tool:
Onehub provides drag-and-drop folder uploads, intuitive folder-based organization, automatic versioning, and a secure FTP gateway for mass uploads. Integrations with Google Docs and Microsoft Office online are also available.
Visit the website. Watch the case study of how the University of Washington uses Onehub.
What is it?
The tool you know and love for personal cloud-based storage is also available for businesses. Organize all your team's content, tune out distractions, and get everyone coordinated with a familiar, smart workspace. Collaborate from anywhere with a secure, distributed infrastructure.
Features of this tool:
Dropbox Spaces brings your files and cloud content together – now your PowerPoints can live next to your Google Docs, Trello boards, and any other tools your team needs and uses. Sync and share files and make comments while being able to track changes to your documents. Team plans start from 12 euro per month.
Visit the website. Watch the video.
Chat Tools
These tools make it possible to communicate with your team even if they are a continent away. Offering secure platforms for text and many times audio and video chat, find a more efficient way to connect that doesn't clog your inbox with long email chains.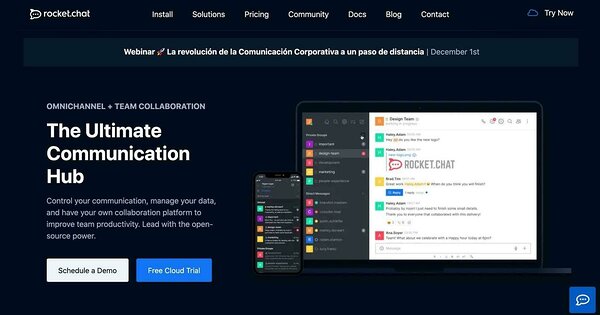 What is it?
Open-source software which lets you control communication and manage your data all while removing the need for CC/BCC. Using Rocket.Chat's Channels and Private Groups, speak to your team openly and with greater transparency on a fully customizable platform.
Features of this tool:
A laundry list of features include audio and video conferencing, guest access, screen sharing, file sharing, LiveChat, LDAP Group Sync, two-factor authentication (2FA), E2E encryption, SSO, and dozens of OAuth providers. Plus, a unique feature of machine learning for automatic real-time message translation between users and an interface available in more than 50 languages, it's great for teams that are spread out all over the world.
Visit the website.
What is it?
Grape operates an interactive online platform which offers secure video, voice and text conversations embedded inside your favorite business tools.
Features of this tool:
Built-in integrations with Atlassian, Confluence, Trello and more with API, you can rest assured that your chats are secure, searchable and accessible either in the Euro-Cloud or on your own servers. Fully compliant with GDPR, the software can help save your organization time and money.
Visit the website. Watch the video.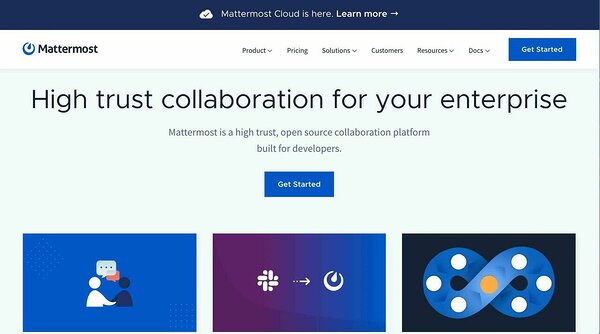 What is it?
Mattermost is a flexible, open source messaging platform, enabling secure team collaboration. The software lets you build intuitive workflows and collaborate across large teams without worrying about security or data privacy.
Features of this tool:
Use the hundreds of existing integrations, or build out custom workflows that scale to tens of thousands of concurrent users. It works seamlessly with mobile security and compliance systems to connect your virtual team's people, tools, and automation to increase collaboration.
Visit the website. Watch the video.
What is it?
Troop Messenger is a team collaboration tool aimed at increasing team productivity. It appears to be an instant messaging chat application based on the title, however, it is more than just an office chat app. Troop Messenger is easy to use. Its intuitive UI allows seamless communication between the team, cross-functional teams, and units in various locations. Plus, Troop Messenger successfully integrated with Zapier in the most recent release, letting its users automate workflows.
Features of this tool:
Some features include Live Location Tracking, Jointly Code, Join Now, Video Conference, Remote Access & Screen sharing, etc. it established as a one-point solution for all the workspace requirements, a major USP of this tool.
Visit the website.
Remote Meeting Software
When your team is apart, having some face to face time, even if it is digital, can help build trust, clear up misunderstandings, and foster a better team spirit. These tools can help provide that by giving an opportunity to meet up with your members as a group or individually.
The best part? You really only have to be dressed nicely from the waist up!
What is it?
This award-winning solution works instantly on any device. There's a reason why millions of businesses trust GoToMeeting for reliable, professional online meetings and on-the-go collaboration.

Features of this tool:
Perfect for webinars, presentations, or one-to-one consultations, share your screen or use the software to record, without needing to take notes. Start for free and scale to your company's needs.
Visit the website.
Watch the video here:
What is it?
GlobalMeet's user-friendly conferencing platform lets you meet on PGi's best-in-class global audio network. GlobalMeet is an easy way to share presentations and collaborate with large groups online.
Features of this tool:
Broadcast from anywhere in the world with HD video streaming. Plus the enterprise grade security helps you maintain network security which helps protect your teams and those on the other end of the line.
Visit the website. Watch the video here.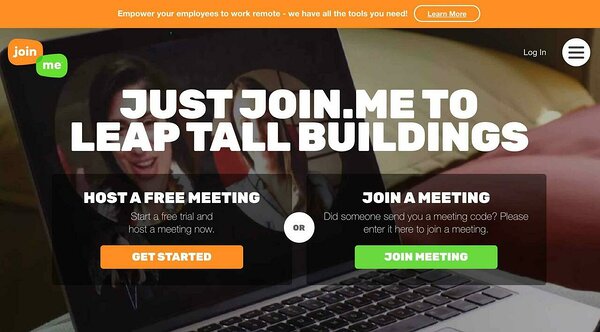 What is it?
Collaborate instantly with free screen sharing, unlimited audio, and ridiculously simple video conferencing.
Features of this tool:
The software allows for customization – of your personalized URL and your background. You can also integrate it with Slack. Get started hosting or joining a meeting now for free.
Visit the website. Watch the video here.
What is it?
With Lifesize, users can host free and instant video calls with their team from their phone or browser. No downloads or sign-ups required — just share the link and go.
Features of this tool:
The cloud-based solutions bring 4K video conferencing and wireless presentation to any size meeting. And a slew of integrations demonstrate why the software is used by thousands of people around the world. Lifesize also offers end-to-end encryption, making it safer than Zoom, which isn't necessarily end-to-end encrypted.
Visit the website. See why Lifesize might be for you.
Time Tracking Tools and Employee Monitoring Apps
Some work requires you monitor the actual length of your projects and tasks. Here's some software to help you do that. It's more accurate than a guess!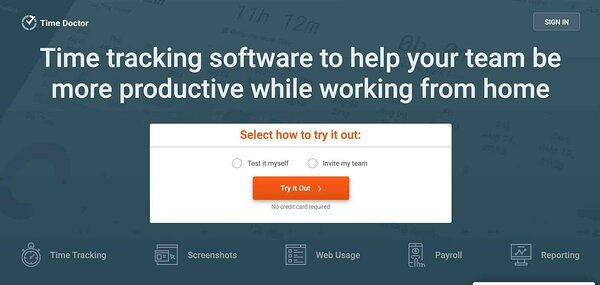 What is it?
Think of this app as preventative medicine for your team. Time Doctor helps everyone one your team keep track of their time. Improving accountability, transparency, and productivity. Cut work time distractions and better your team's focus.
Features of this tool:
Time tracking software that also includes attendance, breaks, and how employees are spending their work hours. Robust integrations with other applications let you connect your team the way you need across all platforms. Plus additional features such as alerts and reports, give a comprehensive overview of your team's performance. Letting you keep an eye on everyone even when you're far away. Get started right away with a free trial.
Visit the website. Watch the video here.
What is it?
Kickidler is a powerful tool for monitoring remote employees. You can use it for time tracking, online computer monitoring, screen recording, remote PC access, and more. The program helps managers have peace of mind when their employees are dispersed.
Features of this tool:
The program allows supervisors to view an unlimited number of screens online, record employee activity at the computer, track working time, analyze productivity and display automatic notifications. In 2020, in response to the pandemic, Kickidler software developers introduced a new features that enabled autonomous employee monitoring.
Visit their website.
Virtual Team Building Tools
When you create a virtual team from all over the world, you might not have the opportunity to ever meet face to face. Barring talking about your latest project or how crazy the weather is, your members might be limited in what you can talk about.
These tools are a great way to get the conversational ball rolling and help your team connect. And can teach you how to better foster a system of teamwork and communication.
What is it?
Trusted by hundreds of teams all over the world, QuizBreaker is a scheduled virtual team building quiz delivered to your inbox. There your team members answer the curated questions in their own time, and then guess what their colleagues said as well.
Features of this tool:
Set up takes less than 3 minutes, and the automated system runs on the schedule that you set. Not only will you have a fun time learning about your teammates, but you'll be able to find out things you have in common, and which might not naturally come up in a Slack conversation or meeting. Plus, you can get started for free.
Visit the website. Watch the video here.
What is it?
Customized quizzes that can be sent via email or Slack. Team members can answer in their own time, and the random trivia knowledge helps your dispersed teams bond.
Features of this tool:
Fun random trivia lets you find out who's also a movie junkie or an ABBA enthusiast and give your teammates something more interesting to talk about. Create some office fun for the price of 25 K-cups with plans starting from 7.50 per month. Even get your first month for free.
Visit the website. Watch the video here.
What is it?
A little bit different from the other tools on this list, Fingerprint for Success is an assessment app for entrepreneurs and investors. With it, they can benchmark themselves against others, and help them discover hidden talents and blind spots. This knowledge can go towards improving overall team communication and dynamics.
Features of this tool:
Based on a 20 year qualitative study, F4S uses analytics to assess individual and team performance. The web-based app is useful especially for remote teams, as it removes the human factor, and gives insight on talent and emotions in data-driven shareable results. This can be useful for upping team productivity and improving group communication. Get started with a free assessment.
Visit their website. Watch the video here.
The Best Tools for Virtual Teams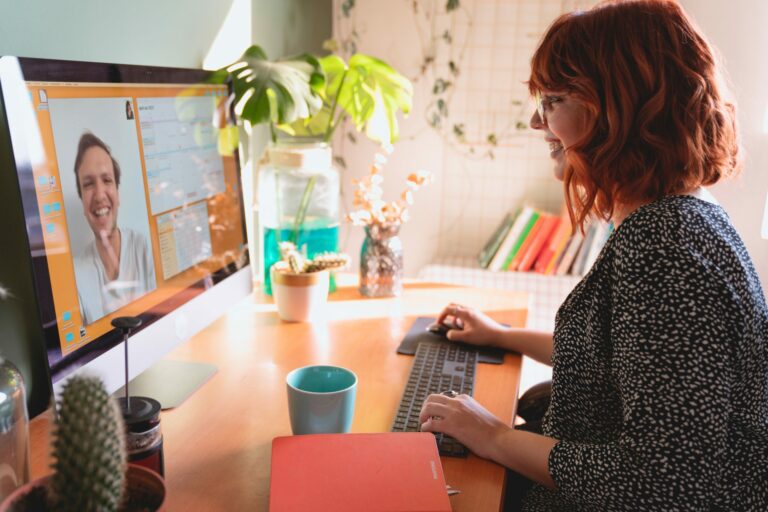 Whether you're managing a virtual team that's spread across different countries and timezones or merely across town, there's unique requirements to help your team work together better and reach your organization's goals. These tools for your virtual team will definitely help with that.
Set your virtual team up for success!