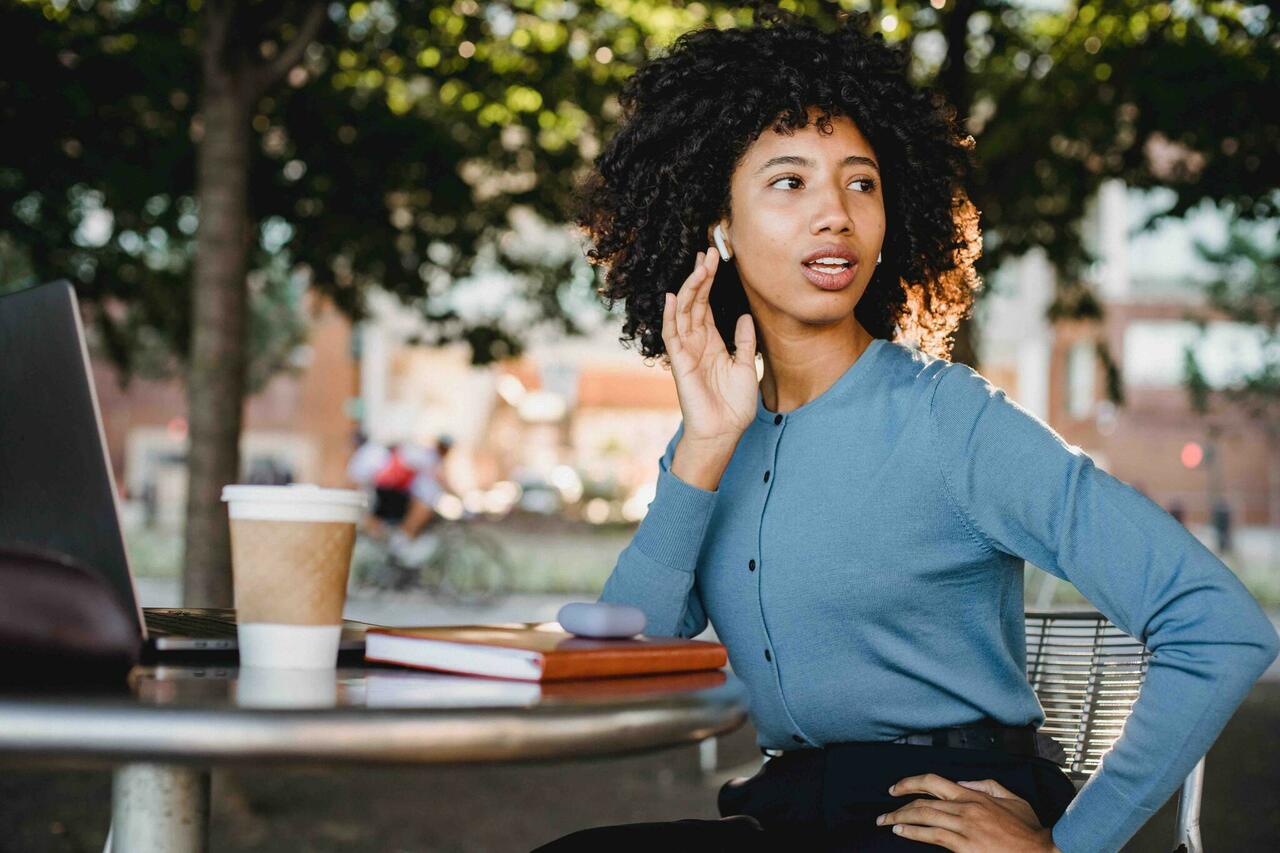 Here's a rundown of the top tools to help with your remote team management. Collaborate from anywhere and work smarter with these 16 great pieces of software.
A New Way of Working
Remote working was the biggest change for companies of the past few years. Yet it seems, companies are still figuring out how to balance in-office teams with those who are still working from home.
For many offices, hybrid workplaces are filling this void. More and more, hybrid and semi-remote employees are now replacing 100% onsite teams. This structure helps to balance the flexibility of remote work, with the camaraderie and support that comes from being in an office.
And now with more companies than ever rolling out initiatives for this practice, other organizations are beginning to follow suit.
This is a huge shift for many workplaces. So with their rise in popularity, the question naturally becomes, what is the best software for managers in charge of remote teams?
To help with that, we've compiled a list of some of the best and most useful tools for your hybrid and remote teams. These will cover all the important aspects of this new way of working. And help you to mitigate the inevitable challenges along the way.
Here's our picks for some of the top tools for your remote workers, broken down by different categories.
The Best Software for Managing Remote Teams
We broke our recommendations down into 5 categories.
Collaboration
Management
Communication
File Sharing
Virtual Offices
Remote Team Collaboration Tools
As opposed to your office's bulky whiteboard, this software helps you collaborate from anywhere in the world. Get creative with the interactive features and encourage your team to participate in more engaging meetings. This software makes the daily brainstorming and planning process more visual and more fun!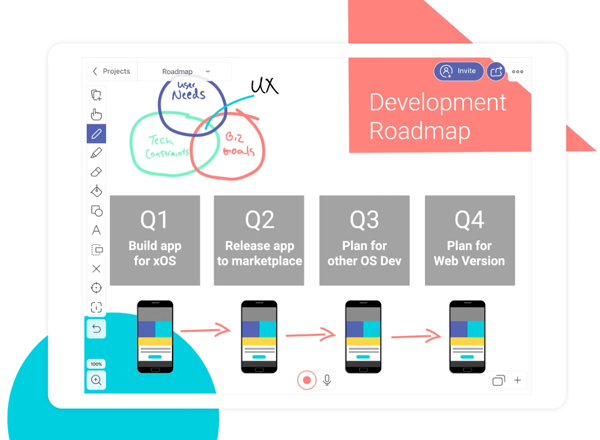 This Polish based start-up offers cloud-based software to help teams collaborate visually in real-time. Use the whiteboard for meetings, as there's high-quality voice chat, and you can take notes in Explain Everything's web-based interface. Record meetings or video presentations, add images, or draw your own in the tool. From there you can share it with your team, your stakeholders, and even send it to non-users. Connect and sync across all devices with their IOS and Android apps.
Explain Everything is cloud-based collaborative software that lets you visually express your ideas. You can use it in a meeting or record a presentation and send it to anyone.
Conceptboard is an online, infinite canvas which acts as a centralized hub for your team's content and ideas. The shared workspace lets you manage all your visual projects seamlessly, across teams and timezones. You can follow actions on-board, screen share, or video chat, so even if you're remote you can collaborate together.
Described as an "online collaborative whiteboarding platform" Miro helps you build and develop ideas across remote teams. Visually map out your team's strategy on an infinitely zoomable canvas, in real-time or asynchronously. Integrate with your workplace's favorite apps to seamlessly coordinate all your projects and see why they say it's where "distributed teams get work done."
Weekdone is an easy tool for planning projects and tasks. As well as sharing updates and giving your co-workers praise for work well done. Whether you're part of a development, design, or marketing team, Weekdone is a go-to tool for remote teams in 2023. By leveraging asynchronous communication, Weekdone's newsfeed lets you get crucial updates when YOU need them. Pair that with a seamless weekly planning feature and gamified reward system for jobs well done and you have an ideal tool for teams spread out around the world.
Maintaining timely, accurate payroll is enough of a challenge for a small business that's striving to keep expenses and overhead low. Some instances, such as employee bonuses and one-time payments, require a different approach to settling payment. Calculating gross to net pay is a simple process, but what about these special instances where a payroll manager must calculate net to gross pay? That's where OnPay really shines.
Remote Employee Management Tools
Keep everyone up to date with their tasks and changes to projects. This software ensures everyone on your remote team is properly managed and knows what they need to do and by when. And helps your PM more effectively tackle their project planning, resource scheduling, and task management.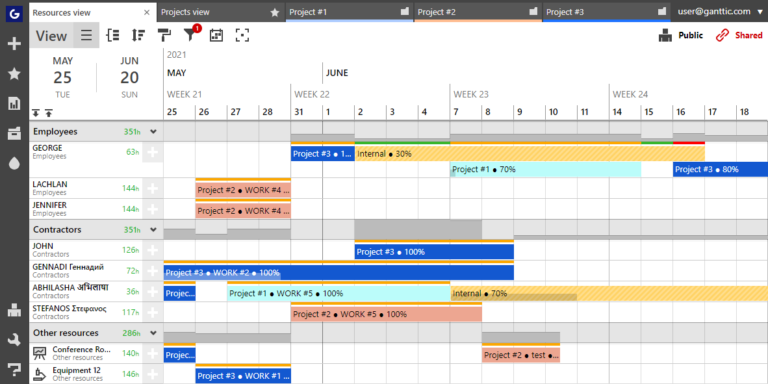 Online resource management software that visualizes your resources, tasks, and projects through Gantt charts. Ganttic's simple drag and drop capabilities means you can make schedules in no time. Then share it with everyone on your team. The cloud-based tool comes with an advanced timeline, that's as flexible as Excel, but without any of the hassle or security issues.
Plus, dedicated project management features such as capacity planning, reports, charts, Kanban boards, and more ensures you're creating the most efficient use of your resources with each plan. Use the app's integrations with Outlook or Google to notify your team or build it yourself with Ganttic API or through Zapier. Keep everyone up to date and no longer stress about what your team is up to.
Lumeer is an absolutely flexible collaborative team and project management tool. It enables easy digitalization and automation of workflows, transparency, ad-hoc reporting and insights into what to do next, how to do it and why it matters. Tasks, clients, projects, features, bugs, invoices, inventory, budgets, expenses… connect everything within a single space. And use the right visual view that fits your needs. Lumeer introduces agile collaboration in teams, anywhere, anytime.
This project and teamwork management platform has taken a leap to make digital Kanban boards more visual. Teamhood's "advanced Kanban board" not only features horizontal swimlanes for categorizing items into stages or areas, but also sub-swimlanes for sub-processes. The detailed visibility allows high level project management and operational teams to collaborate smoothly on the same board. That way you can control the process with Kanban, the timing on the Timeline, and the resource capabilities and availability with the Workload view.
Online project planning software with loads of features. ProofHub offers Kanban boards, Gantt charts, proofing and collaborative abilities, project notes, calendars, and more. All organized in one central location. Assign different roles within the software so your project manager can keep track of your projects' progress with overviews and timesheets. Plus, the mobile app means you can use it on the go.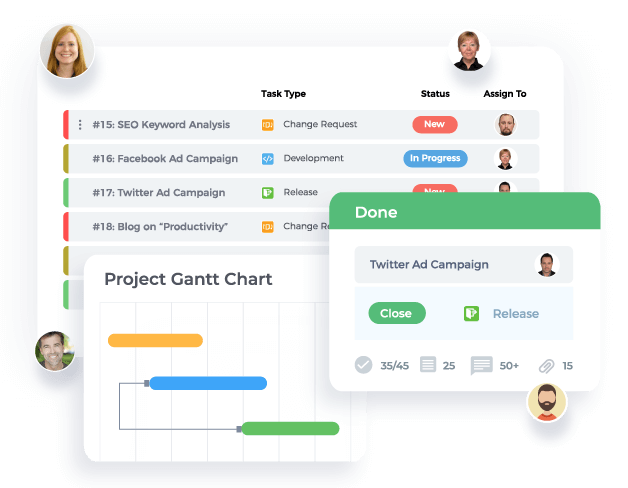 Project and task management software to organize projects, team, and tasks in one place. Orangescrum keeps your team or customers on the same page. And it has tons of features to simplify your collaboration and workflow. Scrum board, Kanban, sprint help to keep you agile a maximize productivity. Plus, OrangeScrum offers project planning capabilities such as milestone/task groups tracking, task status tracking, priority settings, document sharing, and invoice management.
Independent contractors, seasonal help, and some remote employees may receive payment outside of the normal payroll protocols.  For this reason it's wise to have a simple, elegant template for invoicing. Other instances when an invoice is useful include the purchase of office supplies, or rendering of services beyond the scope of usual business.  Submitting a simple, professional invoice is a great way to stay organized, ensure timely payment, and potentially secure future business from return customers. 
Remote Team Communication Tools
An integral aspect of remote work is keeping in contact with your team. Here we present some ways to help you meet up for daily chats or hash out your big plans in online meetings. Bonus: these remote tools are all free!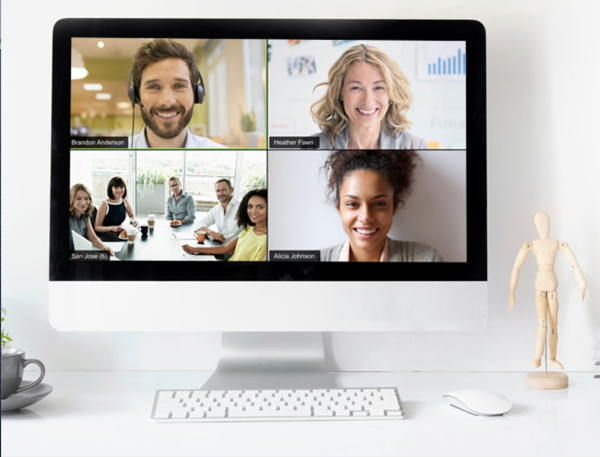 The ubiquitous tool of 2020 isn't going away anytime soon. Enterprise cloud video conferencing, online meetings, and group messaging in one easy-to-use platform. Zoom lets you join a meeting without downloading any additional software, and host one with only a simple sign-up. The free version lets you host up to 100 people for up to 40 minutes, with stable connections and useful screen sharing. Plus, scalable paid packages let you choose the features you need.
Open-source software that was originally developed for gamers. But its rich features, easy setup, and smooth UI give Slack a run for its money. Discord describes itself as an "All-in-one voice and text chat for gamers that's free, secure, and works on both your desktop and phone." If you can get past the gamer feel, you'll see why many are considering this their office and remote team tool.
Video calls and chat software from a fellow Estonian company. Skype lets you create group chats (with up to 600 participants!) and group calls (up to 50) from your phone or desktop. For free and from anywhere you have wifi. Plus, its end to end encryption means all your messages are secure. The fact that you probably already have it downloaded is another reason to integrate it with your remote team.
File Sharing and Syncing
Remote working can't happen without your team having the correct files or docs. Here is some software for sharing and making sure everyone is in sync.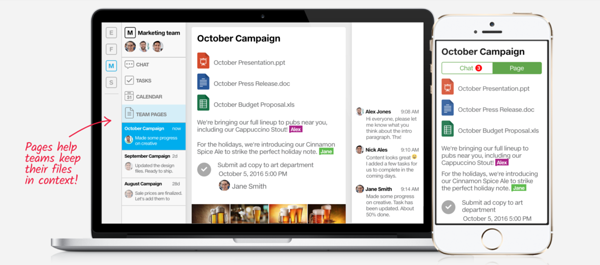 Samepage is an "all-in-one tool" which combines "chat, video conferencing, screen sharing, task management, file sharing, and real-time document collaboration in a single cloud-based collaborative workspace." With the software you can drag and drop files onto a page, edit them, and share the changes with your team. Or edit them from Dropbox and even your desktop and share them when you're done.
Wimi provides file sharing and online file storage that's accessible from any computer. With this tool, your information is synchronized and available whenever you need it and from whichever device you have on hand. Create secure and customized file-sharing workspaces that allows you to preview or edit most file formats. Manage the access rights and collaborate with your team, clients, and external partners. Plus, with files too big for email, you can send a link to download.
Virtual Office Tools
If remote working has your team missing the office, here's some great alternatives. All without the long commutes, fluorescent lights, and drab cubicles. Create your own virtual office for your so no one ever misses a beat.
Built by a fully remote team, My Digital Office is the solution for those who feel disconnected from their coworkers and those who've "grown tired of green status circles." This tool lets users build their own digital workspace: desks to store documents, an office phone for chats with coworkers, and meeting rooms with an online whiteboard for team meetings. The chat recreates those inspiring water cooler moments and your avatar communicates your current status.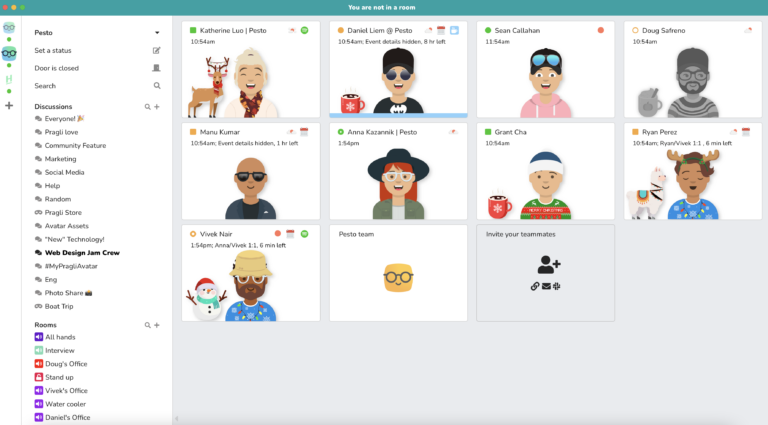 Pesto is a free open-beta virtual office software. Put a face to your voice by customizing your avatar to showcase your personality. Instantly start chatting with colleagues, similar to a walkie-talkie, to get status updates, quickly check-in, or clarify a confusing task. Or set up a meeting with video and screen sharing options. There are also cool features like the lofi rooms where you can silently listen to music with your teammates, the spatial rooms where you can walk around a map and hop in and out of conversations, and the trivia rooms for team social events.
Qube's virtual office transforms how you work remotely, by providing an online office context – who's talking to who, who's out of the office and who just stepped out to lunch. It connects with Slack and Zoom and you can chat with coworkers in the common rooms or in private meeting rooms. The "people watching" feature sends you a notification whenever the person you need to talk to is available. And it works the other way by sending you a list of people who want to get in touch with you.
Don't Let Distance Determine How You Work
When it comes to managing a remote team, flexibility is key. Flexibility for how you and your team work. And flexibility for where you work. But flexibility doesn't mean disorder.
Quite the opposite! With these tools, your remote teams will be able to stay connected, and be more productive than ever before. And you'll be able to ensure an uninterrupted workflow, whether you're in the office or working from home.
Wherever you're working, if you're a PM you need to be able to plan out the next year with ease and efficiency. With Ganttic, you can plan future and ongoing projects, manage portfolios and bookings, as well as schedule your staff, tools, events, or machinery. Gain a clear overview of your day-to-day and create transparent plans to keep everyone on task.
Equip you remote and hybrid teams.