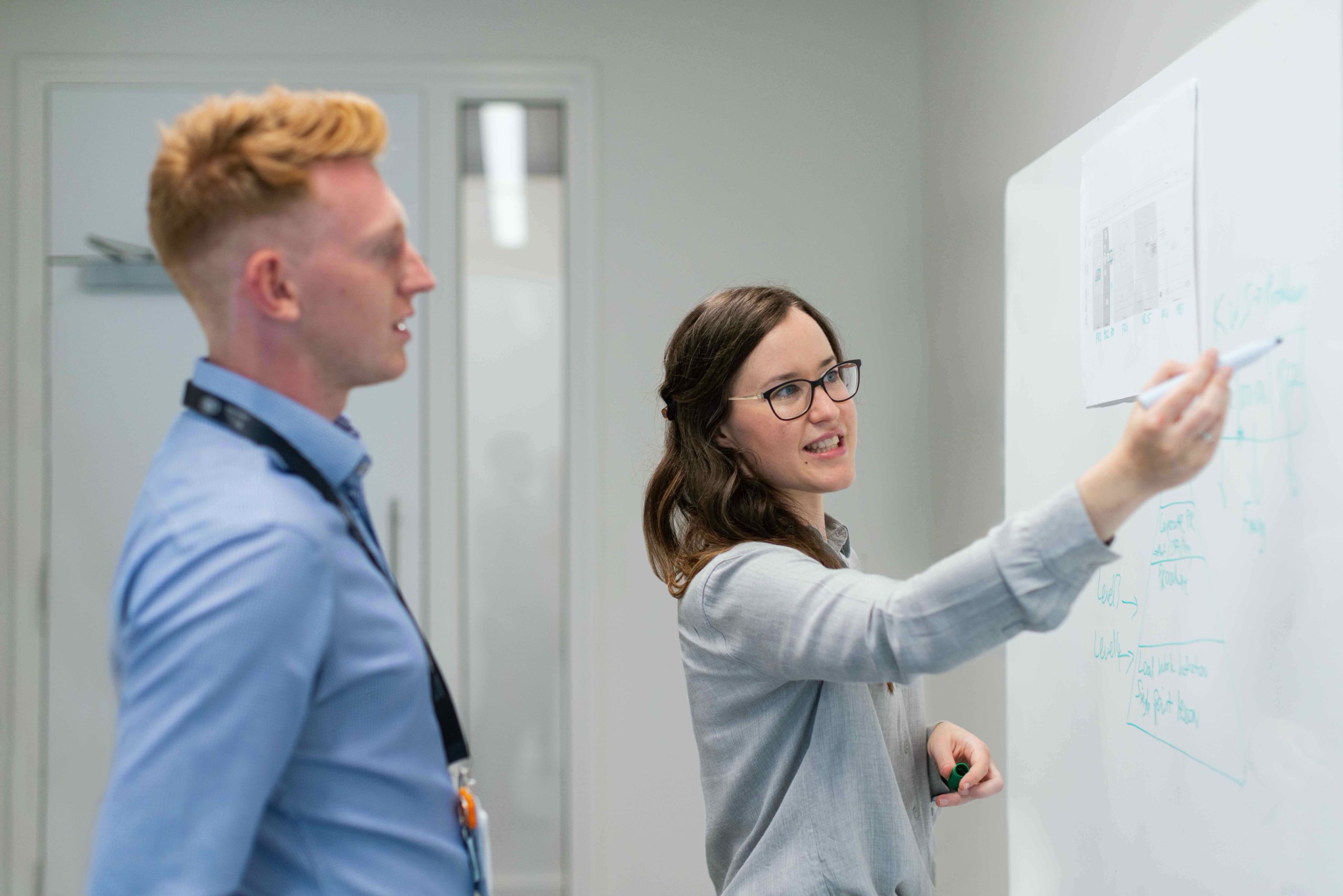 Whiteboards are the ubiquitous office tool. They are a convenient way to collaborate during meetings. And offer a unique way for team members to illustrate their ideas. or project planning and management however, whiteboards are less than ideal. Clumsy and chaotic. They are only becoming even more obsolete in the age of remote and hybrid work.
If you're unsure whether you need to make the upgrade from whiteboards to something more, read on. This article will go through 8 times when whiteboard plans can actually hinder your project management. Plus, we'll offer a few solutions on what to use once you decide to replace your whiteboard.
Planning with a Whiteboard
Whiteboard planning is useful. There's a reason why nearly every office in the world has one.
Team members can easily collaborate, make pitches, and spitball ideas. Whiteboards foster creativity and transport us back to a time when learning was fun. Plus, they demonstrate why "there's no dumb ideas." Because with a quick swipe, Carol in HR's suggestion of "bring your cat to work day" can be gone forever.
Making plans with whiteboards is great for the early stages of a project. There's even science to back this up. And for many, just noting down a plan can make it more effective. However, there are numerous instances when whiteboards just don't cut it. And to better execute your plans, what kind of project management tools you can use instead.
Times Whiteboard Project Management Isn't Enough
1. You Have A Lot of Resources.
While there's no magic number for what constitutes "a lot," it should be apparent when you start to run out of space to write. Or when you're scouring Amazon for whiteboard deals.
When your project contains a lot of resources, things begin to get confusing. Is Benny using the recording studio at 3 or is Bjorn? Who's in charge of the yellow van now, and when will it be available? Which of your teammates is able to meet with your clients and which meeting room can they use?
Project management relies on properly scheduling your resources. But when you have an overwhelming amount of resources, the simplicity of a whiteboard is outweighed by the need to keep track of everything.
Tip to solve it:
Consider using a Gantt chart instead of a whiteboard. And if you're truly dedicated to continuing to use your board, you can even turn that into a Gantt chart.
Henry Gantt's first ones were hand drawn and they were still incredibly useful 100 years ago. Turning your whiteboards into Gantt charts allows you to not only see your resources, but their tasks, and the dependencies between them. They are a handy way to keep track of your resources, and make sure you haven't overbooked or overlooked anyone in the process.
And if you want to make things even easier for yourself, consider some online Gantt charts instead. Here we put together some tips on finding the best software.
2. You Plan Far in Advance
Whiteboards are good for making plans about a week ahead. And for giving an overview of your plans that's front and center at your office. They're a helpful, visual reminder that keeps everyone on task.
However, they aren't so great if you need to plan further down the road. Or if you're hoping to lock in upcoming, potential projects. It's difficult to plan out next week's tasks on a whiteboard, let alone next quarter's projects. So if long-term planning is something your job requires, you may want to consider adding something else to your project management arsenal.
Tip to solve it:
Software can give you the best of both worlds. Not only do you get the overview of all your projects, tasks, and resources, but it's great for long-term planning. That's because you can click to get a long-term view of the next year. Or zoom in on the current week, day, or even hour.
Plus, online tools make it easier when there's multiple projects running at the same time. For example, if all the project managers plan with the same resource pool, then using a common tool guarantees capacity for all projects. Everyone will be able to see if a resource is already occupied with another project and how long that resource will be occupied.
In Ganttic, you have the option of booking "unassigned tasks" for your resources. So even if you don't know what the exact plan is yet, you can rest assured that you'll have the right capacity to carry it out. Once you do have the kinks worked out and your projects are set to go, drag and drop the tasks for easy booking.
Plan your projects and resources for the next year, in a matter of minutes.
3. You Work With a Remote Team (Or Teams)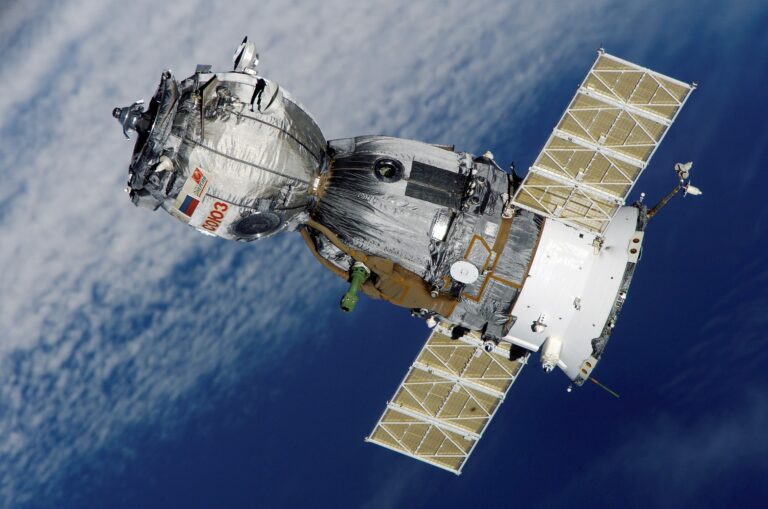 Working remotely is part of the modern, business landscape. And technology has played a big role in keeping everyone on the same page, even if there's continents between you and your teammates. Plus, it's helped make home office a staple in many corporations. So how are you still planning on a whiteboard?
Attempting to do your project management on a whiteboard for a remote team is a feat in and of itself! It could really only work by attaching a lot of photos of the plans and sending out a lot of emails. Anytime the plan changed, you'd need to re-upload the picture and contact everyone involved. Not only is this time consuming, but it creates a lot of useless email "noise." And your team can never be certain which photo is the definitive version of your plans.
Tip to solve it:
For remote and hybrid work, you're already using technology to connect your team. So throwing a 60 year old tool, in this case a project whiteboard, into the mix is just cruel and unnecessary.
If your team or even a part of your team is working remotely, you'll benefit immensely from online project management software. Your remote team can see what's going on from wherever they are. They can adjust the plans. Mark tasks as done. See what's coming next. Collaborate with others. If you assign someone to a project, they will see it right away. Especially when that software allows unlimited number of users for no extra fee. There will be less confusion and more work.
4. Planning is Done By a Project Manager
Planning and managing your projects can be a creative and collaborative process. And that works well for many businesses. Used within this process, project whiteboards can be helpful tools for the early stages of planning and for setting the strategic direction your company wants to pursue.
However, if you have a dedicated project manager or a PMO, then whiteboards may not be the way to go. That's because, if your corporation realizes that project management is important, then it should also recognize why whiteboards just aren't enough. Successful project managers need a better way to organize, schedule, and prioritize projects.
Tip to solve it:
Most project and resource planning software features multiple levels of permissions for users. For example, Ganttic has different levels of Users. As well as modifiable permissions for each planning element. Including resource rights and project rights.
Project managers can decide exactly who sees what. Hide sensitive info. Or make it easier on your team by providing them permission for just their relevant projects. Group rights can even be done in bulk, which saves even more time. Let PMs control how they plan, while also keeping the team in the loop along the way.
5. You Want Your Tools to Do Some of the Work
Let's face it, project whiteboard planning is pretty old school. Once you add info to your whiteboard, that's where it stays. That is until you erase it.
But, what if your data could do more for you? Perhaps, you'd like to know how efficiently your resources were working and at what capacity. Or maybe you're interested in turning this data into graphs which would help you forecast better. Unfortunately, as of now, whiteboards can't tell you this bit of project management without you doing the calculations. But, there are tools that can.
Tip to solve it:
Don't let all your important data go to waste, there's so much that could be useful for future project management.
To get the most out of your information, invest in some planning software which runs the calculations while you work. Whether it's project heat maps, automatic reports, or tracking your resource's utilization. See exactly how your resources are performing to gain better insights, make more informed decisions, and plan more accurately. Make your tools work for you.
6. You Need All Your Plans in One Place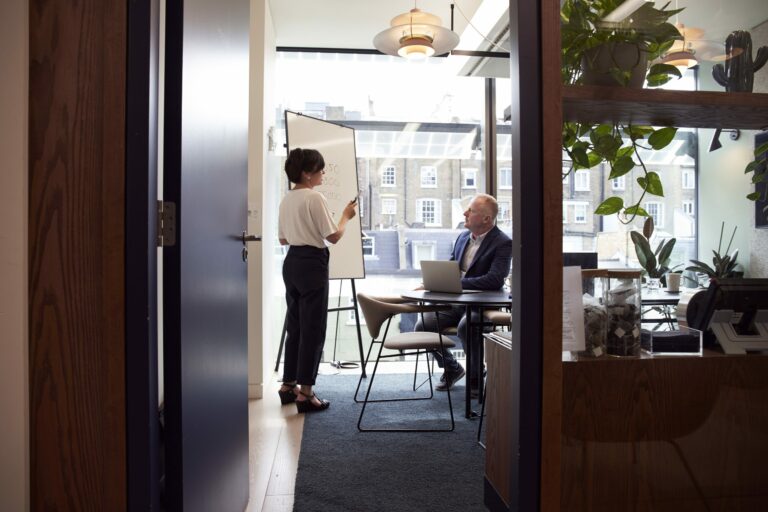 It's unlikely that whiteboards are the only planning tool your office is using. Most probably they're used in conjunction with other free software for planning, such as spreadsheets. However, for anyone who has to use Excel for their project management, you understand what a nightmare that can be. And why it's a habit you need to break.
It's too easy to forget to update the spreadsheets, miss a meeting, or overbook a resource. Plus, so many updates to be added manually, which is ripe for making mistakes. Whiteboards + spreadsheets = chaos. But there is a way that this can be avoided.
Tip to solve it:
There are alternatives to Excel. And what these various resource planning software can offer you is a chance to utilize a flexible and customizable tool. One that keeps all your plans, schedules, tasks, and resources in one place. And without having to deal with a mountain of out-of-date spreadsheets. Replace Excel and see no less resource conflicts or resource stealing. Stay organized and keep your team on task.
7. You Like Your Plans On the Go.
Dragging your whiteboard around with you can be a… drag. Even if the whiteboard has wheels. People generally help to lift strollers to public transportation. Believe it or not, they aren't so generous with whiteboards.
And although it's obvious that you aren't schlepping your whiteboard with you across town, it does open up the logistical issue with them. They are stationary and aren't meant to be mobile. As we mentioned above in point 3, that's not how business works these days.
Tip to solve it:
Resource planning software can help you mobilize. Since it's cloud-based, you can check in at the office, on the train home, or enroute to meet with clients. This helps immensely when it comes to hybrid workplace models. Offices are more flexible, so shouldn't your work tools adapt too? Use your computer or simply open an app on your phone. It's not only convenient and easy, but helps you do your job better.

8. You're Doing Project Portfolio Management (PPM)
If you are engaging in high-level planning such as PPM, whiteboard planning is not the way to go.
PPM is about making sure your company's overall strategy is being carried out by your projects. To do so you need a tool which gives an overview of all your concurrent projects. As well as a centralized system in which you can track your projects and their resources. You need to be able to organize, analyze, and report on your portfolio. And if this is something you can pull off with a simple whiteboard, then color me impressed. For the rest of us, we need a little help.
Tip to solve it:
Portfolio managers need not only a good overview, but a way to see their plans from different angles. With a resource project portfolio management tool, like Ganttic, this is easily achieved via project Views.
Views are like "snapshots" or your plans. Create a unique a View of different locations, departments, and projects. Filter out just in the info you need to and hide what's irrelevant. Views come in super handy if you're working with large resource pools and a high number of projects. Plus, they can be shared with anyone via a simple URL.
And for those who don't want to stray too far from the visual nature of whiteboards, charts and graphs show you exactly when your resources are at their busiest. Helping you make better decisions when it comes to resource capacity planning.
There's Better Ways to Manage Than Whiteboards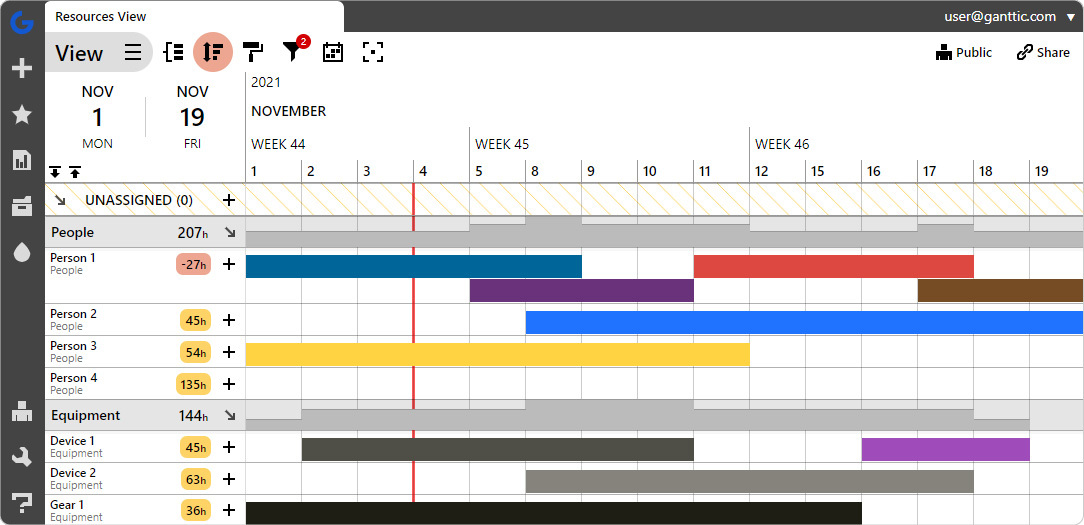 While there's no need to throw out your whiteboard today, it's important to see how much better your planning and project management can be with other tools. Resource planning software helps solve a lot of the problems that transpire when you're only using your communal office board.
If you're ready to upgrade from whiteboard project management, think about investing in some software to help. They'll be more space for your office doodles.
Want to plan smarter? Set up a personal demo with Ganttic and we'll show you how.
Project management software for how you plan.