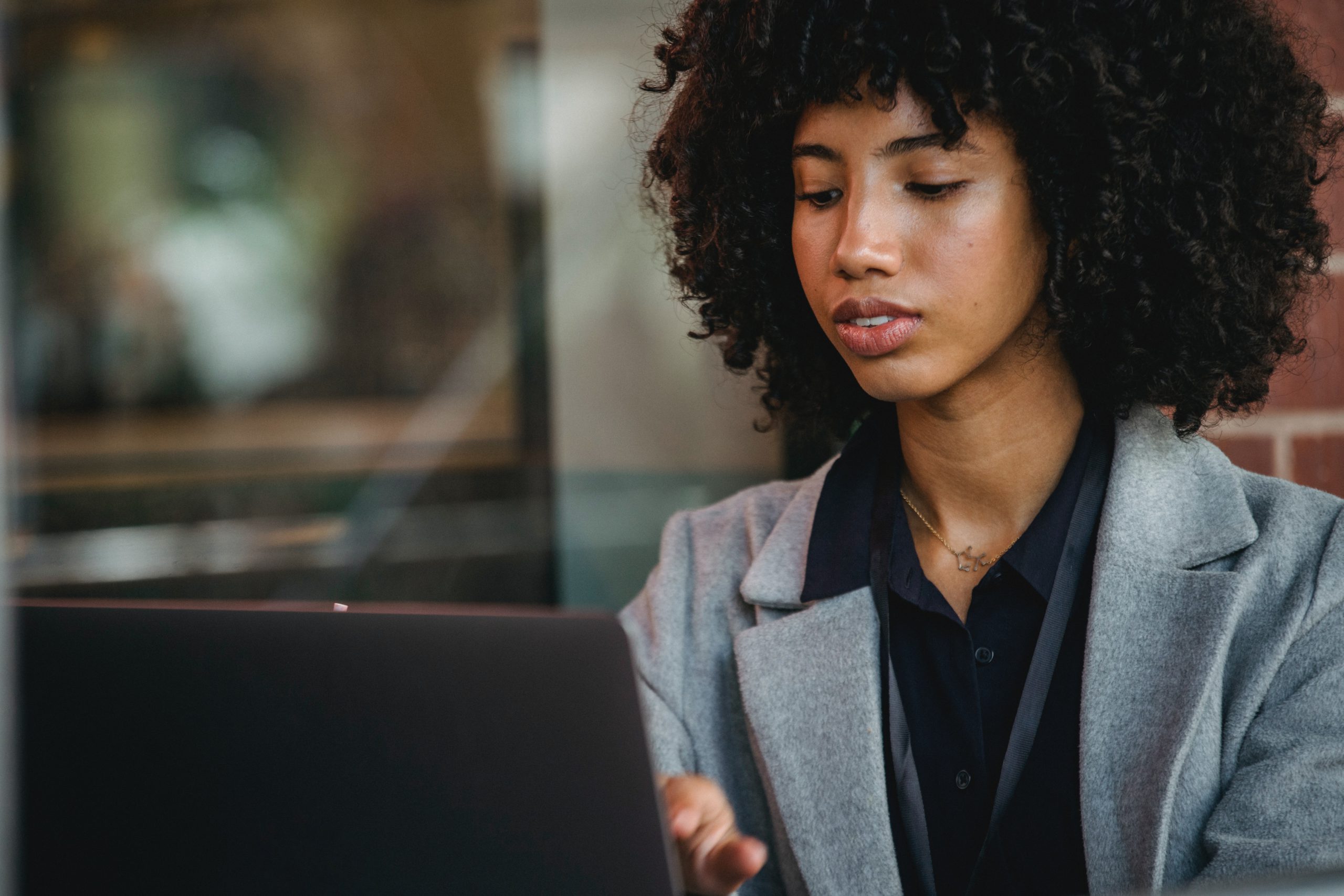 Check out some of the best project management blogs of 2023.
We've recently got in contact with not only bloggers, but actual project managers in differing industries. They gave us some of their picks for top reads across the interwebs. With that, we've created a roundup of all the best blogs on project management, business, and more.
Invest in your future with some tips from experts. Plus see what some of the best project managers in the world are writing about. Dive in and discover what might be your next favorite blog and source of project management tips!
Best Project Management Blogs of 2023
In no specific order, here's blogs with engaging, frequently updated content. Sure to satisfy anyone leading projects and managing teams.
What's it all about?
We're starting with a big one. They even own the domain.
And their mission is simple. They aim to make project managers more successful. And do this by providing "a one-stop shop for PM answers," and info to get you "unstuck" with the day-to-day problems.
With over 14,000 articles from industry experts, more than 1,000 templates, and access to peer advice, the site offers diverse perspectives and experiences from professionals around the world. With something for everyone. Whether you're just starting out in the industry or merely brushing up on recent project management best practices and trends.
What readers have to say:
"Projectmanagement.com is an obvious tool for helping with your project management. Its purpose is entirely to make you a better project manager. The blog offers expertise and information from a massive range of project management professionals. IT also comes with a number of tools including how-to articles, information related to certifications and much more. This blog is all about making you more successful, and its important to remember, that even though this may be an obvious choice of what to look at, sometimes there is a reason these blogs are so popular – because they work"
Daniel Foley, Director
Where new readers should start:
With so much material you can take your pick. Here's one about leadership in the new year that can get you off to the right start. Or here's some advice on how to kickoff a new project.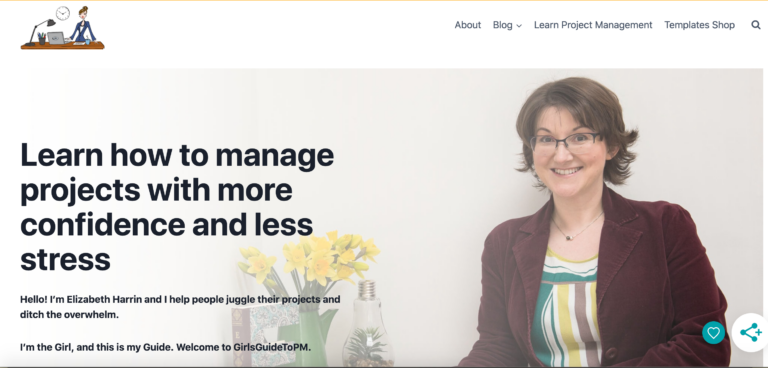 What's it all about?
A Girl's Guide to Project Management is focused on providing practical tips on managing projects in the real world.
Run for the last 20 years by Elizabeth Harrin, the author of several books and a Fellow of the Association for Project Management in the UK, the blog merges theory and practical applications into easy-to-follow advice managers can use on a daily basis.
It all began when Harrin "realised that women's voices in project management were not being heard as often as men's," though through this blog, that's definitely changed!
And while the blog still has a unique female perspective which oftentime showcases the successes of other women in the profession, the issues can appeal to anyone in PM. And especially useful for early and mid-career professionals who're attempting to perfect the work/home balance juggling act.
What readers have to say:
"Owned by Elizabeth Harrin, a specialist in project management. A Girl's Guide to Project Management provides a woman project manager's perspective. She decided to start her blog journey after the realization that there were not sufficient women to write about project management.
Harrin strives to encourage people, especially women to deliver projects confidently. She gives news updates, views from her own insights and experiences as well as covers project management events."
Shayne Sherman, CEO, Techloris
Where new readers should start:
Harrin herself gave us a few places as to where new readers can start diving in. Such as this post about the future of project management. Or this one on managing your boss. There's a little something for everyone here, so you'll definitely find some content that will sharpen those PM skills.
What's it all about?
Project managers unite to bring readers templates, whitepapers, online events and webinars and more to the Project Times community. Keeping readers up to date with PM news, trends and insights. As well as giving access to those interested in PMI® Certification.
Vetted contributors can showcase their unique thoughts, adding diversity and flair to the industry. Plus, worldwide job postings help those wanting to move up the ranks or even get their foot in the managerial door.
What readers have to say:
"Project Times team keeps the site consistently updated with in-depth articles, blogs, whitepapers, templates, and webinars, ensuring that PM Times is at the forefront of relevant content surrounding all developments regarding project management."
Jennifer Willy, Editor, Etia
Where new readers should start:
We like any article that expounds on the future and the role digitalization will play on PM. A good recent read on this is this one on the role AI will have on the life of project managers. Or this article on project toxicity risks expertly equates poor project management with a virus, terms we can all understand in our current times.
What's it all about?
Don't let the name fool you. Coach, consultant, author, speaker and more, Peter Taylor is anything but lazy. And the advice he gives isn't meant to cut corners, but there are some useful hacks that come from years of experience.
What readers have to say:
"One of the top project management blogs that I frequent isThe Lazy Project Manager. I really enjoy a combination of content that allows me to obtain skills from other seasoned project managers and tips/techniques on how to improve my abilities to deliver a viable solution."
Alexis Nicole White, certified senior project manager (PMP) and scrum master (SMC) –ANW Consulting
"I'm a reader of The Lazy Project Manager blog. It's run by Peter Taylor, who's the author of "The lazy project manager" and "The lazy winner". I like his idea of "productive laziness" and believe, as he does, in achieving more with less. The blog presents ways to work smarter, not harder in order to complete projects on budget and on time."
Todd Ramlin, Manager of Cable Compare
"This blog is targeted towards beginners that struggle to complete projects on time alongside facing budget and productivity issues. The Lazy Project Managers Blog helps one to improve all those factors and teaches you how to work smarter and not harder. The author of the blog runs a series of videos and podcasts for people that learn more from audio and visuals."
Atta Ur Rehman, Content Marketer, Gigworker
Where new readers should start:
As we're living in the age of uncertainty, this post might help you take back some control. In the office, at least.
What's it all about?
Alan Zucker from PM Essentials has been writing a monthly blog on project management for the past 7 years. With topics ranging from staying agile, to project governance, and ways to deal with stakeholders. His blog covers a broad spectrum sure to appeal to project leaders, business owners, managers, and anyone else who shares "a passion for project management and leadership"
Where new readers should start:
Because we all need to stay flexible and agile in our current times, here's some tips on getting started. This article shares two foundational principles: empowering people and making work visible.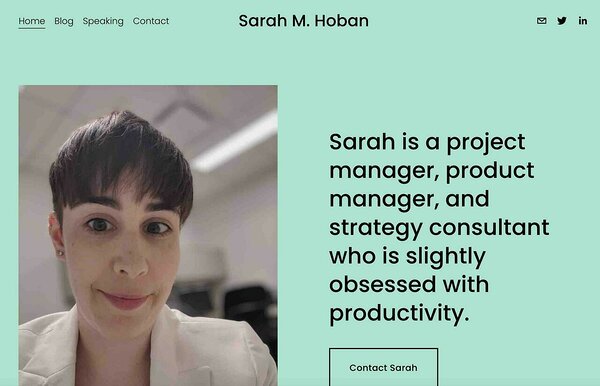 What's it all about?
Sarah describes herself as "a project manager, product manager, and strategy consultant who is slightly obsessed with productivity." And from her blog, which has been around since 2017, all this is apparent. It's full of funny, honest, and helpful advice from the world of PM and business management. And with more than 10 years of experience in the biz, there's lot's of insight to be gained from her well-written posts.
Where new readers should start:
Personally we like the review of Ganttic, which offers a fair and honest look at our project management software. Even if Sarah isn't the biggest fan of Gantt charts. And if you agree, this post might be a better place to start.
What readers have to say:
"Capterra is a helpful blog that provides thorough information on project management tools as well as statistics and figures. Along with reviews and insights, Capterra stands provides articles, reports, and guides to help you find the right software in over 500 categories to make project management easier."
Holly Zorbas, Assistant Editor at Credit Donkey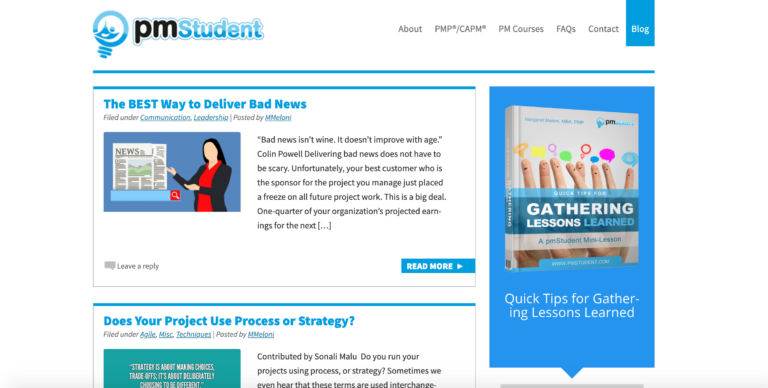 What's it all about?
Community leader Margaret Meloni has a background in IT Project Management and PMO Leadership. Through this platform, she arms readers with the knowledge and the skills that "can be used on the job RIGHT NOW!"
The real life lessons accounted in the blog are "combined with inspiration, common sense and a dash of humor to create students who successfully navigate the human side of the project world."
What readers have to say:
"If you're looking for a project management blog that covers all of the PM bases from high-level strategies to quick tips for common challenges then PM Student is an essential blog to keep an eye on. Expert PM Margaret Meloni provides professionals in the project management world with a multitude of resources through her blog such as podcast episodes, helpful courses and instructional videos so whether you just want to find some helpful tidbits that will make you a better PM or you feel like doing a deep dive into the strategies that have worked for expert managers in the past, there's something for everyone."
Aaron McWilliams, from 1Dental.com
Where new readers should start:
Practical advice abounds in this post about incorporating project management best practices (including resource planning) into all kinds of management. Or check out some tips on turning disagreeing teams into high performing ones.
What's it all about?
A blog of leadership run by the CEO of a 250 million publishing company. If he can do it, why not take his advice? This blog gives actionable advice and insights for busy professionals which can be incorporated into your daily lives.
What readers have to say:
"My favorite project management blog to read is Michael Hyatt and Company's blog. It's filled with actionable insights into project management and business in general. I really like the variety. Rather than going to a PM blog specifically and only getting PM advice, you get a whole range of advice that can be interlinked and applied to PM, business and your management style. I also just really appreciate that they've taken the time to design it well. I've found that many PM blogs are difficult to navigate which just turns me away. I can easily find the type of articles I'm looking for on this blog and can therefore capitalize on the time I dedicate to reading new content."
Blake Hardwick Marketing Manager – Greenberg & Stein, PC.
Where new readers should start:
Start 2021 off on the right foot with some goals you can use to succeed and some tips on making them work.
What readers have to say:
"To be familiar with Project Management association with technologies like Artificial Intelligence, I read the blog Productivity Land. Steve and Frank test out various apps and tools, write in-depth reviews, articles, lists, and more. Productivity Land is my suggested go-to source to hunt for all the tech you want to up your project management game."
Stewart Dunlop, CEO PPCGenius.io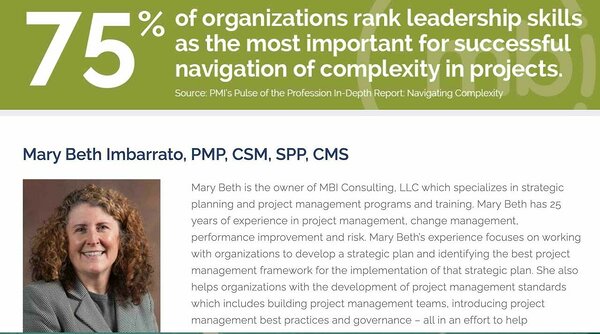 What's it all about?
Mary Beth Imbarrato began her blog in 2017, finding it a way to share her experiences and observations from working in project management and strategy circles. But putting her own unique spin on it. Saying,
"You will find that most of the project management materials available today are targeting people who want to be Project Managers. But, let's face it, a lot of people do not want to be Project Managers. They like their 'day job' and just want to be successful with that project that just landed on their desk."
Ideal for everyone from Customer Service Managers, HR Analysts, Marketing Coordinator or Logistic Specialists. Or anyone who's being asked to lead projects, Mary Beth's blog is there to help her audience succeed. Whatever their actual title.
Where new readers should start:
Imbarrato herself gave some recommendations on where new readers can get started. With this one on the many challenges managers continuously face. Another good place to start is how to kickstart your year with a strategic plan.
What's it all about?
A blog which has been around since 2016. Its audience is small business owners who are struggling or overwhelmed by their businesses. Something that many people unfortunately experience.
With posts about big data project management, operations, and virtual business ownership, it's set apart from others by producing content which helps "small business owners manage their businesses like they really mean it, rather than letting it manage them."
Where new readers should start:
Separate fact from fiction with this post which gives a run down of some general project management myths and what should reasonably be expected from PMs.
What's it all about?
Brad Egeland is the author of more than 7,000 articles, eBooks, white papers and videos on PM, security and other tech-related subjects. His blog is consistently named on the top blogs for a reason. And he's got a lot of content to satisfy managers at any stage of their career.
What readers have to say:
"One of the best project management blogs that I follow is bradegeland.com. Brad is the best at what he does. He has been in the industry for over 25 years and has accumulated the kind of insight that is difficult to find elsewhere. He has also created a lot of content over the years, making him a thought leader."
Reuben Yonatan, Founder and CEO of GetVoIP
Where new readers should start:
Brad's a prolific writer with a lot to choose from. But his tips for the 5 best characteristics of project managers is snappy and to the point.
And when you've gone through all his material on the site, check out some of these other posts that Brad wrote for Ganttic.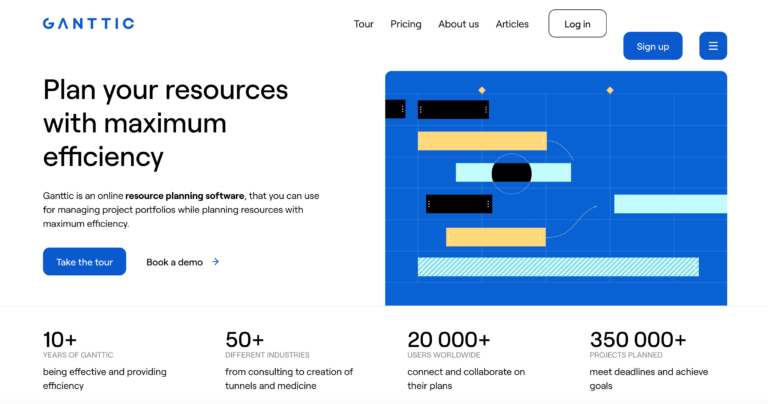 What's it all about?
Last but not least, we're going to include ourselves on this list. Not only because we have more than 10 years experience in providing software that makes the lives of project and resource managers easier. But because of articles like this one, where actual PMs provide their expert advice to our readers. Or the one you're reading right now!
Check in with us for weekly tips on PM trends, ways to use your time and tools more smartly, and guest posts from managers, small business owners, and thought leaders.
Where new readers should start:
Need to brush up on the basics? Find out what you need to know when taking over an existing project. Or the skills for successfully leading a virtual project team.
Also see what you're missing out by not engaging in resource management techniques when doing project scheduling. And how you can go about creating a dream team when scheduling resources to specific tasks.
Learn, Grow, Succeed
These project management blogs are just a few ways to create your own success. Gain some new insights, sharpen your skills, and read more from some of the most influential minds in the industry. We're hoping that you can make 2023 your year to shine.
Resource planning software designed for project managers.