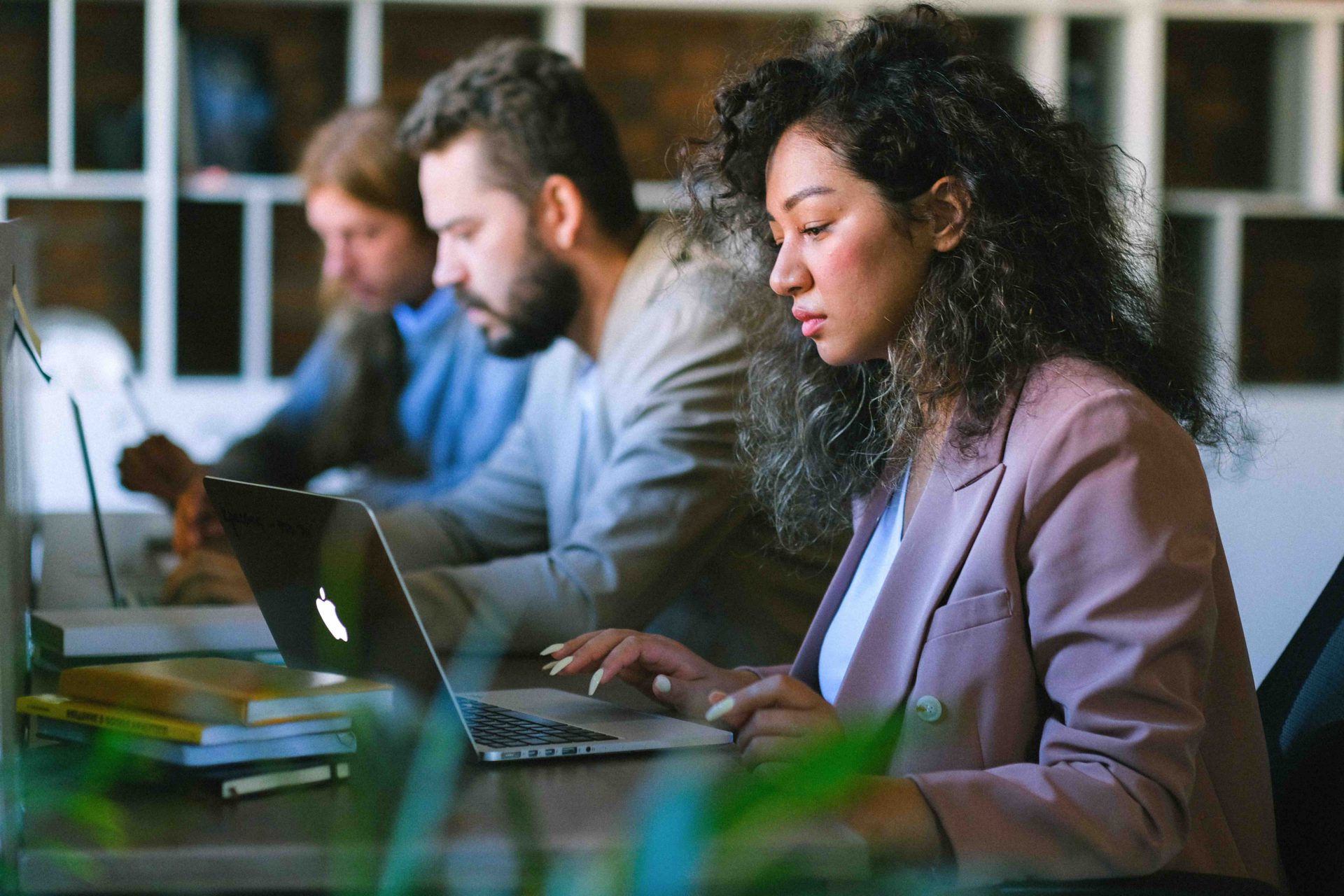 Many still choose on-premise solutions since there aren't many cloud-based services that cater to their needs. And because on-premise solutions have always been in the source code of large enterprises. But do they really have to be? Or could online resource management tools be for large organizations?
Since we have been providing planning software for almost 10 years now, we have learned about every single pain and advantage there is. And while there are reasons why large organizations should choose an on-premise solution, there are also great counterpoints. And plenty of ways to make online resource management tools fit their needs.
When Do Companies Need ERP?
When scheduling hundreds or maybe thousands of resources, it's not about the cutesy stuff that's great for team building and collaboration in that more detailed sense. It's about knowing what's coming and collaborating on creating the schedule. And you need the picture to be clear and the software easy to use, so there wouldn't be a steep learning curve for all human resources who need to log in and check their schedules. These problems create a unique need for a product that is scalable, accessible, and easy to use.
While scalable tends to indicate to on-premise software, both accessible and easy to use tell you to opt for a cloud-based solution since these tools are constantly improved and can be accessed from any device without downloading the software first. Two for one seems like an easy decision, but it never is when choosing a collaboration software. Even more so for large organizations.
Cloud ERP vs On-Premise ERP
There are plenty of positive things about on-premise ERPs. They're reliable, they're easy to use and maintain, and they're a proven platform that has worked for companies of all sizes in the past. But they really only work for specific companies with specific workflows.
Online resource management tools don't have all of the limitations that on-premise ERPs have—they're flexible, they can grow with your business, and they can adapt to the needs of different teams within your company. They also save you money, because you don't have to buy new hardware or software every time you want to expand your business.
But let's break it down category by category. See if cloud-based or on-premise is where it's at for your enterprise resource planning.
User Interface and Experience (UI/UX)
Cloud ERP
The thing with online resource management tools is that often it's an either-or-situation. Either you can't decide much and pray for a decent UI. Or you're slammed with an overwhelming amount of features.
Too many features for detailed planning and not enough for making a clear and visual high-level resource management plan. You can add a label to your data field, but can't decide what kind of data you can add. You can choose between templates, but what you can create on your own is limited. When something goes wrong, you can't call your own IT department, you have to put your trust in some other company. And last but not least, you can't choose the weapons to protect yourself with.
When looking at the most popular online resource management software, you see tools that require you to fit around their own requirements. When it should actually be the other way, with the software attempting to fit your data.
However the good news is there's tons of online resource planning tools out there. So your options are not limited. Send out an email or two during the trial. Let them guide you. Ask for a demo. Get a taste of it. Then, you'll know how they'll act when the times are tough. Many listing sites like Capterra, ask customers to rate the customer service. Read through some of the reviews.
Cons: Have to rely on software's UI
Pros: Easy to trial, more options with customization, allows for more flexibility
On-Premise ERP
An in-house planning solution can sound like a dream since you can build it from the ground up. You can choose all the features you need to make your planning process as comfortable as possible, and change anything whenever you need it to be changed. When in reality, it's never that easy and your IT department isn't there just to work on the planning solution. There are other projects and if the planning tool works, it can stay unchanged as something that can be described as a hopeful monstrosity.
ERPs have a long reputation of being cumbersome and not at all user-friendly. And often these tools are built for utility, not looks. But for some, this is a small price to pay for a system that's more customized to their organizational planning needs.
Cons: Bad UI/UX, not user friendly
Pros: Can be custom built, can rely on in-house support
Security
Cloud ERP
When it comes to their resource planning, there's many things that might be considered "sensitive." Identification numbers, banking info, you name it. It's for that reason that on-premise ERPs are often preferable. Because if that information gets out, it can be a security breach. And how much can you trust third-party software?
However, there is a counterpoint to all this.
It's often the case that companies have sensitive data they need to keep secure, but they just don't have the resources to do it themselves. Cloud-based ERP software doesn't require companies to host their data on-premises, which means it's not in danger of being compromised by hackers or other threats. It also means that employees can access the information they need from anywhere—which is important when you have employees working remotely or on different shifts.
Plus, since security is so in demand, a lot of software is going the extra mile and putting in more security protocols.
Cons: potential security breach if sensitive info gets out, potentially less trustworthy than in-house
Pros: Cheaper and easier to maintain than hosting it yourself, security is updating all the time
On-Premise ERP
But at the end of the day, for many, when you get to thinking about the security of cloud-based services – goosebumps. And not the good kind. Unfortunately, security will always be a question when talking about cloud-based services. Often simply because you want to make sure you are doing the best possible job on keeping any kind of data safe. And it can be difficult to trust someone else with that task.
On-premise ERP systems are a great choice for any company that needs to get their hands dirty with the nitty-gritty details of their business. Because with them you can rest easy knowing that your data is safe and secure on your own servers. But that doesn't mean you still don't need to be sure that the people who have access to your data are trustworthy and reliable. On top of that, you'll want to make sure that the systems you use are secure and dependable.
Cons: More expensive, your company is responsible for possible data leaks
Pros: hosted on-premise is better for companies with the means
Time and Money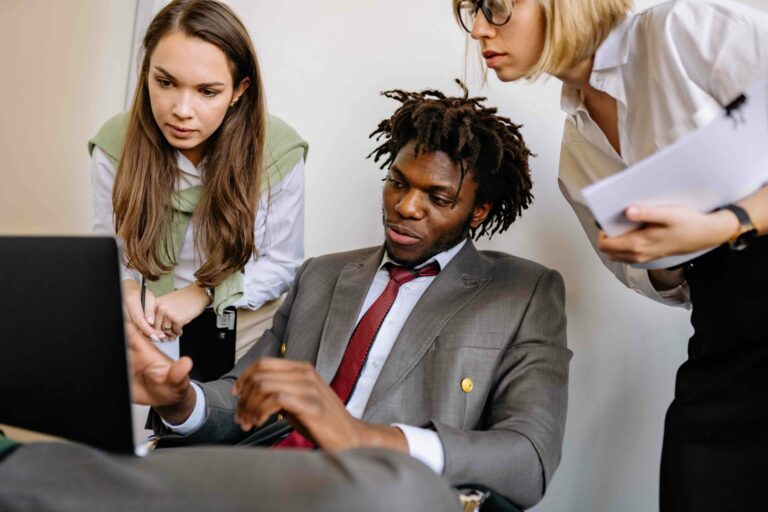 Cloud ERP
Transparency is a huge factor in successful resource management. Unfortunately, transparency usually comes with a price. Literally and figuratively. Usually, when adding more users to online resource management software, the price goes up. So you have to make adjustments. Not everyone needs to see how the work is laid out, right?
Well, both studies and real-life experience have shown that involving employees in the resource management process makes them more engaged. Luckily, there are online resource management tools out there, that price their software per resource in use (so in addition to people also machinery, vehicles, etc) and not per user.
Also, don't forget time is money. And a huge bonus of online resource planners is that there isn't a lot of setup time and staff training.
Cons: Some, but not all cloud ERP, is license-based
Pros: faster setup and less training, cheaper, more people can be involved in the planning
On-Premise ERP
The ability to customize the software to your exact needs is unparalleled. Meaning it should be easy to create an ERP with the transparency and features you need. But take a moment to consider the figurative price you have to pay.
That is: the time that is needed for training and all the mistakes that are going to be made once everyone has access to the master plan. As mentioned above, on-premise ERPs are not user friendly. Meaning there's a very steep learning curve for any new users.
But let's take a moment to looks at the actual price as well. ERPs do not come cheap. Average annual project costs per user are about $8,265. With implementation costs ranging from $150,000 and $750,000 for a mid-sized business.
Plus, A cloud ERP can be scaled up and down as needed, which means it's easier to meet new employee requirements without having to buy additional licenses or upgrade equipment. With an on-premise system, this isn't possible unless you buy more equipment or subscribe again at a higher level-which can be costly!
Cons: steep learning curve, very expensive, doesn't easily scale
Pros: Accessible and custom-made
Real World Case Study
For nationwide engineering firm Pure Technologies, implementing a cloud-based resource planning tool was critical for their success:
"We needed a better way to schedule a project so that we could see who would be involved and what equipment would be in use. Especially when teams were coming from three different offices nationwide and equipment was being shipped from anywhere in the country."
That's why they adopted Ganttic to help them out. The set up of which was simple and straightforward.
"When we rolled out Ganttic, we started with a group of 60 people. We just literally emailed out the username and passwords. People just started using it. It was really easy to use and there were very few questions."
Now everyone can see their schedule, managers can keep track of their resources, and everything can run much more efficiently.
Read the full case study.
Accessibility & Integrations
Cloud ERP
We have said it before and we will say it again: resource management is never "do it one and done" kind of job. You have to update the schedule and reallocate resources on a daily basis. Online tools are great for that. Even more so when considering flexible working hours when everything is done on the go. You can't hope that whenever someone notifies you of an expected change in the schedule, you will be behind your trusty office PC every time. Or that everyone else that's supposed to check their schedule is, too.
So make sure there are integrations for calendar applications like Google Calendar or Outlook. Even better if there's an API that you can use to integrate in-house or other work tools.
One more bonus of cloud-based ERP software makes it easy for you to collaborate with other people in your company (like your accountant). You can work together on projects without having to worry about compatibility issues between programs or platforms.
Cons: not all come with native integrations, may need IT dept. to build custom integrations
Pros: Accessible to outside parties, most come with the most common integrations
On-Premise ERP
Going further with the last point, you need the updating process to be fast and easy. With an ERP you can build that. But that doesn't necessarily mean the resource scheduling will be made in real-time.
You know those email threads when someone notices a booking in the schedule that wasn't there yesterday. Yeah. These things tend to happen when updates aren't instant, more than one person is doing the booking, and projects are using the same resource pool. Live updates keep your mailbox clean and uncluttered and make your job a little bit easier.
On-premise ERPs are great for large, established companies with well-established workflows. But if you're just starting out and still trying to figure out what your business is going to look like in the future, on-premise ERPs may not be the best choice.
Cons: not great for businesses just starting out, if software isn't real time – higher chance of errors
Pros: Custom built ERP workflows can accommodate different planning styles
Switching to an Online Resource Management Tool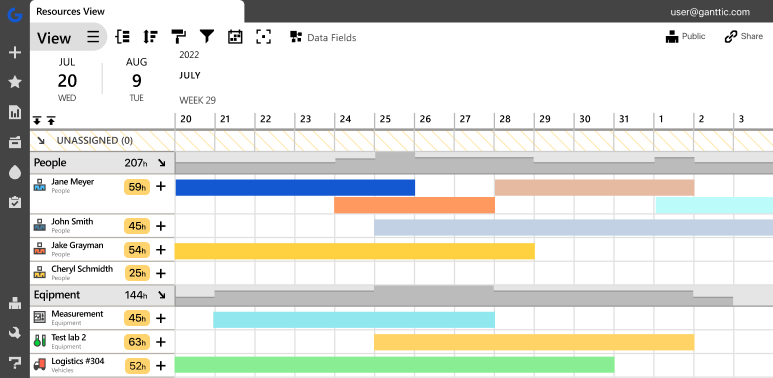 On-premise ERPs are great for companies that need a lot of customization and flexibility in their software, but they can be expensive and difficult to use. Online resource management tools give you all the benefits of an on-premise solution without the high price tag, making them a great choice for any business that needs a flexible solution.
If you find yourself in a position where your business is outgrowing spreadsheets, but you don't want to deal with the hassle of ERPs consider what Ganttic can do for you. Start with a free trial. And you can always book a free demo at anytime.
Come see what a flexible online resource planning tool can help you achieve.
Deliver an accurate picture of your plans.
Start now for free.