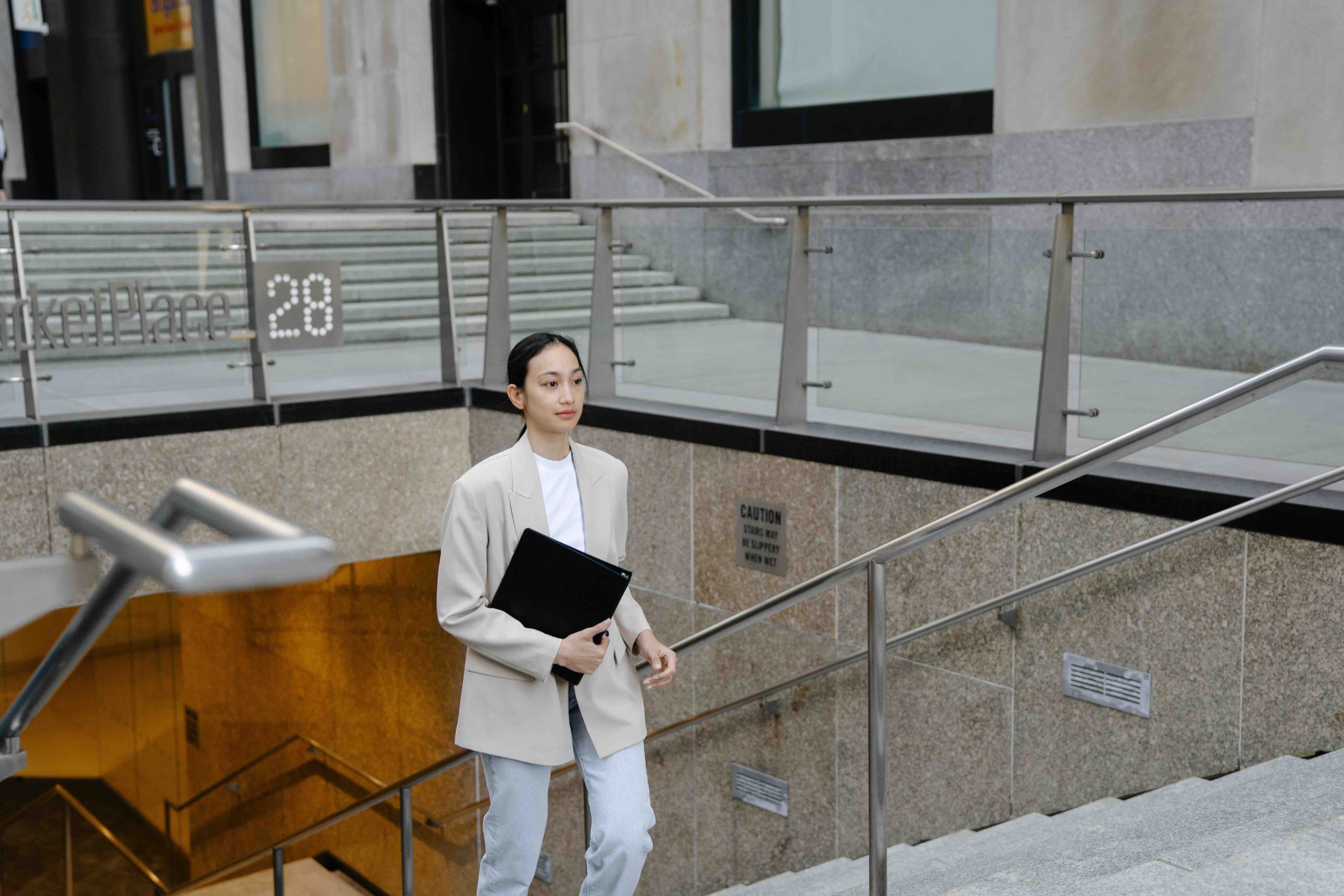 Resource planning with a solid strategy is an effective remedy against project failure. So it's logical that it would be an integral part of project management. But for those unfamiliar with the term, it won't help if you jump into the process with guns blazing. In fact that could have the opposite effect- wherein your projects are doomed.
Let's prevent that, shall we? Here we'll lay it all out. Providing a template to define your own resource planning strategy. Use it to spice up your own management processes, protect your projects, and get more out of your team and resources.
Definition of Resource Planning
What exactly is resource planning?
Resource planning is the act of allocating and utilizing resources (people, machinery, tools, rooms) in order to fulfill project objectives. Its aim is to maximize resource efficiency, while simultaneously giving an overview of resources' availability and capacity.
Resources can be anything your company utilizes to get tasks done – ranging from people like contractors or freelance designers, to bulldozers, drills, and machinery, to spaces like meeting rooms and job sites. Resources can also be tools like computers and even software.
So when you build a strategy plan around your resources, you're not only seeing if projects fit into your overall portfolio, but you're getting the bigger picture of how your team, tools, and other resources will play a part in the project execution.
Meaning with it, you can do more, on time, with less!
Why Do You Need a Resource Management Strategy?
Short answer: Without one, your project might fail.
Long answer: This infographic shows important project failure statistics. And it's evident that a lot of projects begin without having their goals clearly defined from the get-go.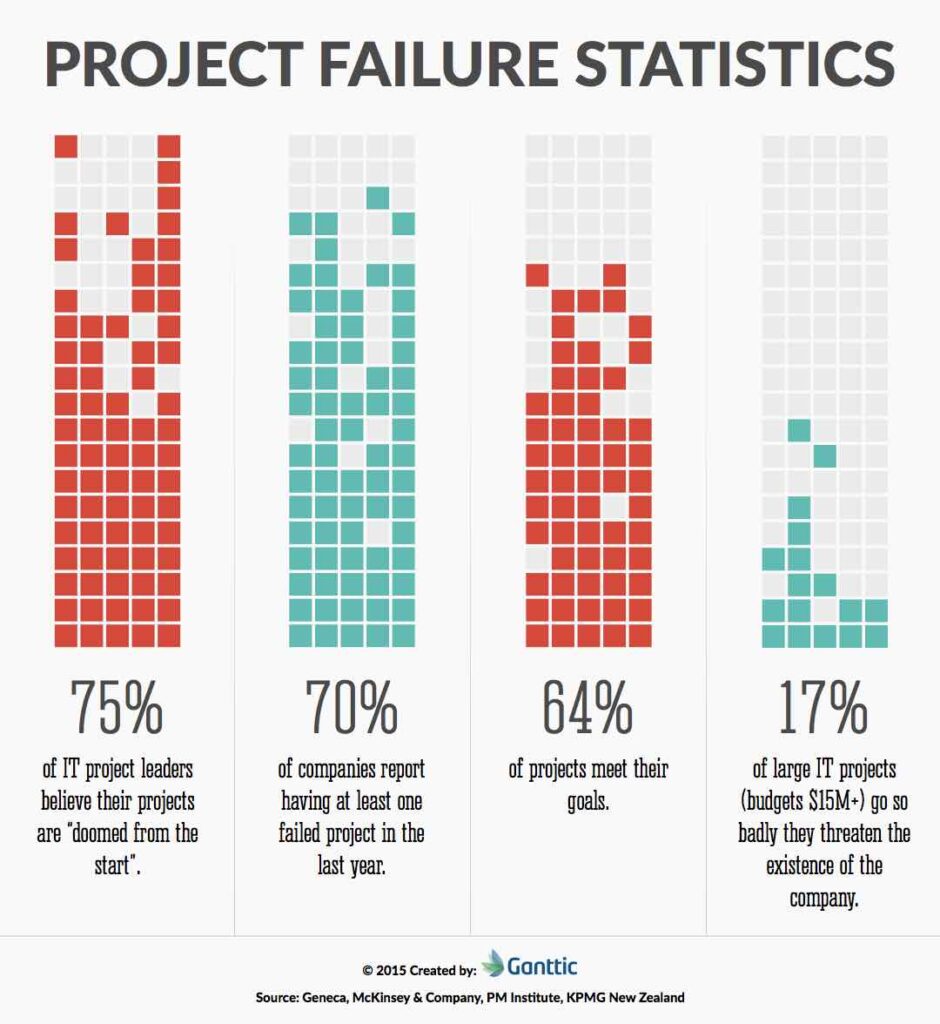 75% of IT project leaders believe their projects are "doomed from the start".
70% of companies report having at least one failed project in the last year.
64% of projects meet their goals.
17% of large IT projects' budgets go so badly they threaten the existence of the entire company
What's the point of sinking millions of dollars into a project you believe is "doomed from the start"? With proper tools for resource management and project planning, you can eliminate that 17% entirely.
6 Steps of Resource Strategy Planning
When you're ready to start defining your resource plan, here are the steps involved in the process. We narrowed it down to 6.
Step 1: Create a Resource Pool
The first step is to create a pool of resources that can be assigned to projects and used as needed. A resource pool itself is simply a list of the human and non-human resources you might use to complete your project. By creating this, the goal is to create a pool of "ready" resources that are available for immediate assignment.
Step 2: Organize the Resources
Once you have a list of potential resources, sort them into categories based on their skill sets and other relevant factors (like cost or location). You may even want different groupings within the pool. Use different identifying labels to help with this process.
Some useful resource categories and specific labels include:
Resource type, title, position
Resource location
Skill sets, certifications, and strengths
Availability
Step 3: Schedule Projects
The third step is planning projects. This can be done by determining their timeline and estimating task duration. For this you should include dependencies between tasks or milestones. These helps define critical path items or important deadlines that need completion before other tasks can begin or finish on schedule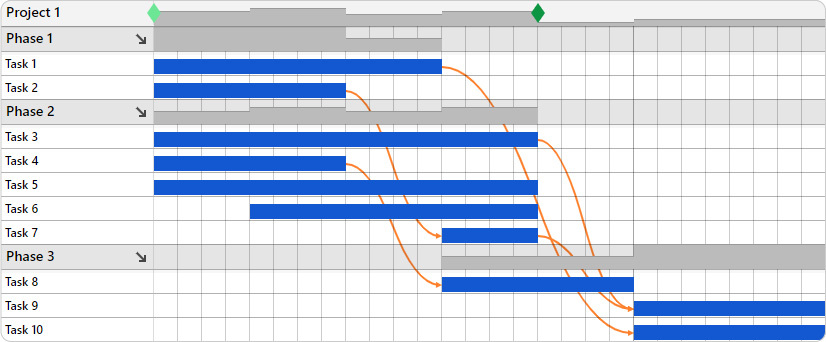 Step 4: Add Project Specifics
The fourth step is estimating costs/schedule/budget for each project based on scope, duration and resources needed for completion. This step may require multiple iterations as you refine estimates for each project over time as more information becomes available about each aspect of the project's work breakdown structure (WBS). There's different scheduling techniques that can be used for adding in these specifics. Many of which may change over time. But hammering out the basics now will make the rest of the steps easier.
Step 5: Assign Resources
Next you'll need to allocate specific resources to projects based on their availability and qualifications, while balancing scope with cost and time constraints.
Now that you have everything sorted out, take some time to review your lists and choose which resources are best suited for each part of your project. It's important to note that not all the resources in your pool will be perfect for every job; this step lets you narrow things down and make sure that each resource has something that makes them worth hiring again (and again!).
Step 6: Share the Plan and Review
After you've completed a resource planning strategy, it's time to share the plan and review it with those who are involved. This will ensure that you have a solid understanding of how to implement your plan, or that any kinks in the plan are worked out before you begin.
If you're working in a team, you'll want to make sure that your team members are on board before sharing the plan with other people. You can do this by getting feedback from them during the planning stage and then again when the plan is complete. This can help ensure that everyone is on the same page and that there aren't any surprises when it comes time for implementation.
Besides your team, you may need to share and wait for feedback from management as well. They may need time to review it before implementation starts. So make sure you account for potential holdups.
Benefits of Using Strategic Planning Software
Now that you have the steps down to begin putting your resource strategy into action, it's important to get the right tool to help you on your journey. Resource management software makes it quick and easy to implement any strategy. Here's some areas where you'll see some improvements.
Ease of Use
When building a plan, you need to make sure that you can execute it. And that you have the right tools to help bring you plan to fruition. Using clunky software overloaded with features or complicated ERP will not help in this regard. Nor is it an efficient use of your time to wrestle with cells in a messy spreadsheet.
There's so many great resource strategy planning tools available nowadays. With each one offering different features and workflows to suit every project manager. And all come with a standard set of features that make your job of resource planning easier than ever. Some of these include:
Drag and drop: Simply click when you want your task to start, drag it to the desired end point and release. Title your task and you're done! With drag and drop scheduling, you're one step closer to achieving your goals.
Flexible timeline: One in which you can zoom in and out of a time period, you are looking at an accumulation of hundreds of hours saved in your resource planning efforts.
Easy resource allocation: Assign resources to multiple ongoing projects without overbooking anyone. You can view one project at the time or the whole portfolio.
Custom data fields: Giving you a means to have your resource data listed in multiple ways. The same set of data can be sorted by location, by roles, by projects, unsorted, and more.
Collaboration
In the past, resource and project management used to be all top-down. But with new practices such as agile and lean management, and new ways of working such as hybrid work and remote teams, there is a lot more need for collaboration. Or at least some feedback from the people working on your projects.
This means that the resource plan you create may require different means of input amongst your team members. Maybe you want your staff to allocate themselves to a project's task. Or you'd like them to comment on whether their recent assignment works for them. Either way, it's imperative that everyone has the proper access to the resource planner.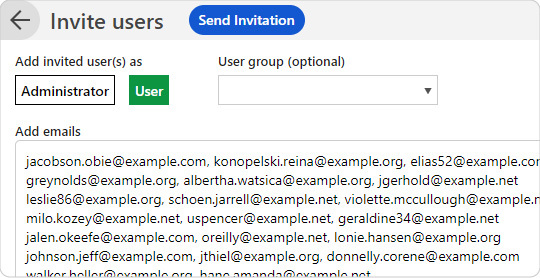 With dedicated resource planning tools, it's not only easy to add new users, but some even offer the ability to add as many users as you'd like. Meaning you can have unlimited sharing, unlimited teamwork and unlimited collaboration. All for the same price.
Although if you prefer having one PM to create and share the schedules, you have that opportunity as well. With custom user permissions, you can decide if you users have full-fledged administrative or editing rights, viewing rights, or restricted rights for just a small portion of the project.
Saves Time
For most people our work days are filled with activities that are often not listed in the job description. Countless meetings, completing administrative tasks, not to mention dealing with useless or temperamental software.
With the average U.S. employee using 13 work apps per day, it's important that the ones being utilized don't make their jobs more difficult. But online resource planners should reduce time wastage.
By streamlining the resource scheduling and planning process, software can half this time. Better still, the multi-user environments and real time updates mean that there's little need to spend the time emailing out new work schedules. And automated reporting helps eliminate yet another time suck.
The only question now is, what are you going to do with all that extra time?
How much time can resource management save every year?
Add together all the times you've had to spend a whole day reformatting Excel cells when the project timeline changed. And how much time you've spent emailing and re-sending modified schedules. And the amount of hours spent tracking down available resources when a project goes long.
Taking those annoyances out of the equation can help illustrate just how much time is wasted planning with improper software. And why an alternative is absolutely necessary for anyone interested in more efficient planning.
Customizable
A lot of people get started with their resource planning journey using Excel's spreadsheets or templates. And they are a good baby step towards building a resource strategy. But when your organization begins to outgrow Excel, it may be time to find a sufficient replacement.
Excel works great because of its flexibility and unlimited options for customization. But believe us when we say, it's not the only one.
Online resource planners provide plenty of opportunities for customization. Maybe it's as simple as using specific colors for your project management statuses, clients, or resources. Colors not only make things more visually appealing but they help attract the attention of your staff. And guess what, resource planning software's got it!

Or perhaps you want to change the POV of the Gantt chart. Want to see how a resource's tasks are progressing? Or do you need to hone in on a specific project? The right software not only lets you switch between resource based Gantt charts and projects – but you can create an unlimited number of planning Views. Meaning if a colleague prefers a different way to plan, it's not only possible, but encouraged. Plus, since it's all the same data and resource pool, there's no copy/pasting or manual input – it's as simple as a different tab.
More Cost Effective
Last but certainly not least, a major perk of online strategy planning tools is their price. We all know that ERP is expensive. How expensive? Well, implementation costs anywhere from $150,000 and $750,000 for a mid-sized business.
Or maybe you think it's more cost effective to keep at it with spreadsheets – I mean you already have the license and/or there's plenty of free templates to slap onto a Google sheet. But with these, it's important to remember an important phrase: There ain't no such thing as a free lunch. Meaning even if something seems like the "free option" there's always a catch.
With Excel's spreadsheets the catch is those hidden fees for extra licensing and cloud-based collaboration. Plus, we all know time is money, and all the manual work, constant updating and emailing out the latest iteration, combined with those fees means your organization needs to send unseemly gobs of money to Microsoft.
Dedicated online resource planners provide your company with a simple way to create a schedule, manage project resources, and define your strategy. With plans starting at $25 per month for unlimited users, projects, and collaboration, creating a resource planning strategy has never been easier. Or cheaper!
Accessibility
Have you ever tried viewing an Excel sheet on mobile? What about editing data on a tablet? We're all grateful for the invention of the touchscreen, but mini spreadsheets, cells, and touchscreens just don't go together. Let's not even get started on the nightmare of trying to file-share a spreadsheet. The solution for instant accessibility on-the-go is to utilize the technology that you are already using for your daily life – Google Calendar or Outlook Calendar.

Once your team imports all their Gantt charts to their Google Calendars, they are able to access their plans from their mobiles or tablet calendar app. Even without internet connection.
While it's not exactly a Google Calendar Gantt chart, it is the easiest way to have your work plans available right from your pocket.
Flexibility
We need our data for a variety of purposes. For a client meeting, we don't want to end up sharing our entire clientele data. For a board meeting, we want to present the important numbers instead of Bill's social security number.
While Excel allows you to save your data in many file formats, you are not able to extract the data that you need without having to do it manually. But with an intuitive resource planning software, you are looking at a simpler way to export your data.
In Ganttic, you can create an automatic report of your data and set it to go out to anyone you want, in any time interval you need. And If you don't want your plans to be sent automatically, you can also create a custom report, download it in your preferred format, and send it on to whomever needs it. Clients, freelancers, your therapist, anyone!
Security
When you are using spreadsheets, you are vulnerable to a whole list of possibilities of losing your data. On top of corrupted files and viruses, you are also looking at the potential loss of your devices, which may lead to unbacked-up files being lost as well.
Having your data on the cloud is more than just convenience, but it is also addressing the security issue. As seen in the screenshot, the very same lock symbol appearing in bank websites and government websites means that you have a secure connection. Having a secure connection also means that the site's certificate is valid and its identity has been verified by a trusted third party. You can be sure that you don't have to worry about data theft.
A stitch in time…saves your plans!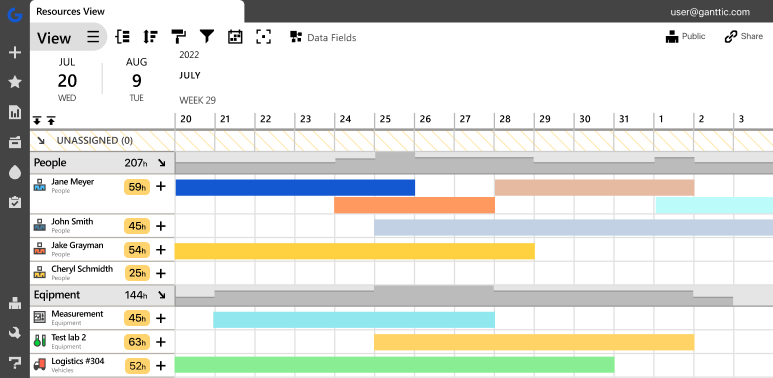 No matter your organization's size or industry, every team everywhere is able to benefit from strategic planning. Thinking ahead to how you will execute your projects and tasks will prevent expensive potential failures from occurring. If "a stitch in time saves nine," think how much you can save with not only the right strategy, but the right tool to complement it.
See what resource management software can do for your strategy. Sign up for a free demo of Ganttic today.
Deliver an accurate picture of your plans.
Start now for free.