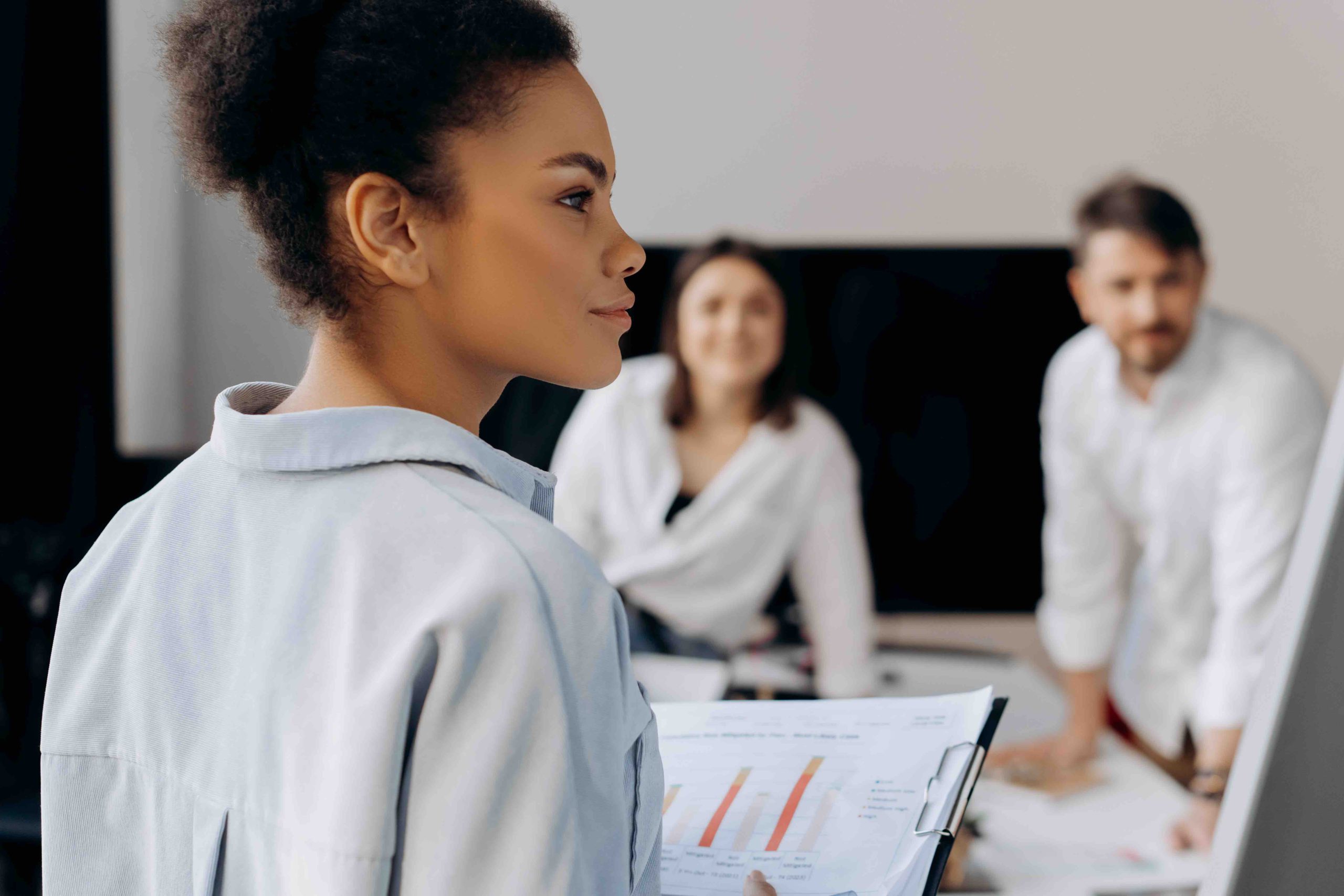 Project management KPIs are controversial. For some, they are the "opiate of choice in the business world." And should be tossed aside along with typewriters and office ashtrays.
While others take a more dogmatic approach and see them as truly essential. "If you can't measure it, you can't manage it" is not only catchy, but it looks great as your boss' bronze desk plaque. Or a meme they circulate around the office…
Regardless of your stance on KPIs, they can give you a lot of insight to how your projects are progressing. And especially if you can find ones which are easy to implement, while also adhering to your overall strategy, then you've got a win-win!
Here we'll give you 7 project KPIs that will up your management game. Often overlooked. And simple to start tracking, these indicators might be just what you need to get your projects on course for success.
Why Use Project Management KPIs?
Short answer: to measure the success of your projects.
But besides the obvious, there's a number of reasons why your project management office should use KPIs. Including:
Making sure your project is inline with company goals.
As a motivational tool for your team.
A way to test out different strategies.
Using it as a reporting mechanism for your boss or other stakeholders.
To spot and fix gaps in the planning process.
What's the Difference Between Project Management KPIs and Metrics?
KPIs tell you if you hit your project's targets by showing the result. They are determined before actually diving into the project
While metrics, on the other hand, track the status of the project's progress. Both KPIs and metrics are measurable and tell you how effectively you're achieving your project's objectives. However, metrics generally aren't considered as important as KPIs.
What's the Ideal Number of Project KPIs?
Aim for and stick to about 3-5 KPIs for the best project delivery. Any more than that and it can be more difficult to manage. Or they might start to compete with one another.
How to Choose the Right KPIs for Project Delivery?
The KPIs you choose should be strategic, so don't just pick 3 randomly. Here's a few ways to choose the right one for your project.
Look to your stakeholders. Investors and clients should tell you exactly what they'd like to see, so it's best to consult with them first.
Use SMART goals. Narrow down your KPIs by first determining your goals. Using the acronym SMART, you can make sure they are Specific, Measurable, Achievable, Relevant, and Time-bound.
Choose those that will best illustrate your project. Different organizational entities care about different things. Your team may worry more about time metrics, while your boss is concerned about the budget. Are you looking to improve your project workflow and processes? Or do you want to compare current projects to the past? The KPIs you choose can all go towards a different end point. So define that first, and then get to brainstorming your metrics.
Use those that are easy to implement. KPIs should ease your project planning not take away from it by being costly or time consuming. So keep in mind that they also need to be achievable.
Whichever KPIs you decide to use, being able to view, measure, and report your results is essential for project success. So using a project management tool will be most definitely be your best friend in the process. Let's look at a few of the most essential KPIs as well as how easy they are to implement with just a few tweaks to your workflow.
Essential KPIs in Project Management
Number of cancelled projects
Missed milestones
Current task and project backlog
Actual Cost of Work Performed (ACWP)
Budgeted Cost of Work Performed (BCWP)
Planned hours of work vs actual situation
Group utilization
Project Effectiveness KPIs
These KPIs look at how your project or project portfolio are coping. And how effective your project planning strategy really is.
1. Number of Cancelled Projects
What is this KPI?
Looks at how many of the new projects you are taking on are actually reaching completion. And how many unfortunately aren't.
How to Measure it:
Calculate the number of cancelled projects from those you had planned. If you have an overview of all your projects, this can easily be done manually. Or if you're using software, a report can do this for you in no time.
What insights can you get from this KPI?
If a high percentage of your projects are not being completed, then there's obviously some underlying problems that need to be addressed. Maybe there's not enough capacity, and you need to make some new hires. Or the timeline was underestimated. This can also point to the sustainability of your organization as a whole. And the need to reassess your planning strategy.
2. Missed Milestones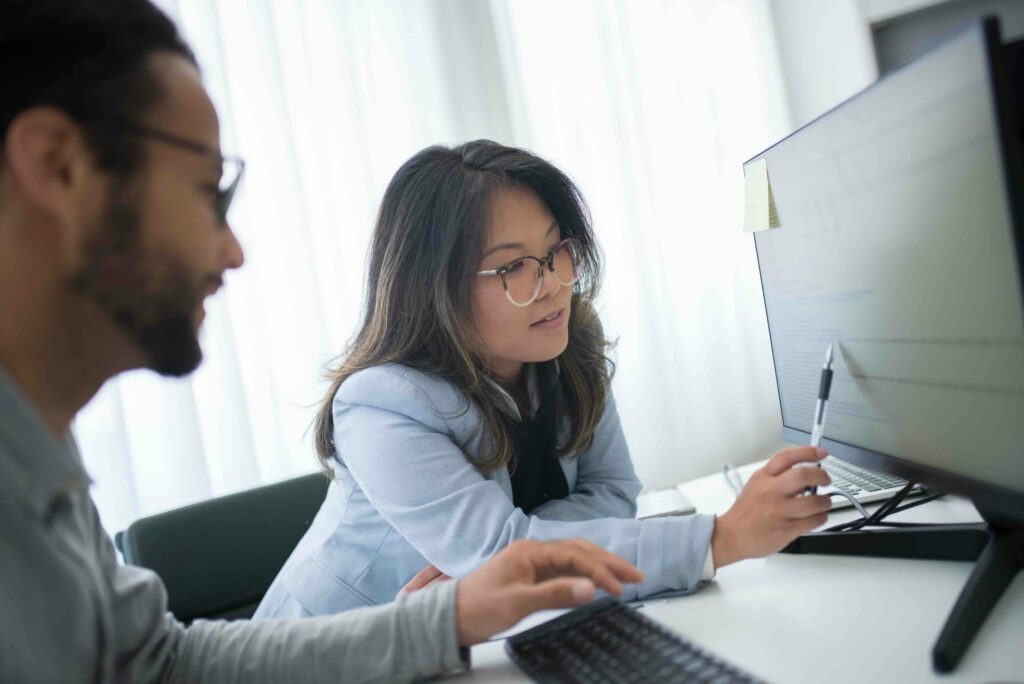 What is this KPI?
How many notable milestones has your project or task missed? This milestone might be a certain deadline determined by your client. Or a notable date before budget or resource constraints kick in.
How to Measure it:
Find the percentage of milestones that don't quite hit their marks. This can be determined visually in your project's timeline. Or if you've synced your project plans to your GCal or Outlook Calendar, you can also manually calculate it. A project report created in your favorite project management tool is also an easy way to get the answers you're looking for.
What insights can you get from this KPI?
If you aren't hitting your milestones, then your project is running into delays. This is easier to fix in the beginning or middle of a project, than later on in the process. Improper forecasting can also be responsible for missed deadlines, so focus your efforts on some better forecasting techniques.
3. Current Task and Project Backlog
What is this KPI?
An easy gauge to figure out and which packs a lot of insight. This KPI examines which tasks and projects you still need to complete. And how much this list grows as your project progresses.
How to Measure it:
If using a Kanban board simply look at which projects are being held up in the "in progress" column. Or in Gantt chart software you can visually determine if a task is ongoing.
Either way, take notes of the amount to compare it to the future number. Or use features such as virtual sticky notes to see which tasks have been marked as a "problem child." You can also simply generate a report of current tasks.
What insights can you get from this KPI?
A quick look through your project or task backlog can inform you where you're experiencing bottlenecks, where these bottlenecks are coming from, and how to sort through them. Plus, it can help you prepare for others in the future.
You might find that these bottlenecks are coming from improper resource management.
And perhaps when planning your resources, you neglected to match the right person to the right task. So taking a look periodically can help correct those mistakes before they become bigger problems.
Project budget KPIs
Metrics that measure your project budget as you edge toward completion. And look at how well you've optimized the overall project costs.
4. Actual Cost of Work Performed (ACWP)
What is this KPI?
A calculation of how much you've spent on the project to date.
How to Measure it:
To find this number you need to add up all project related costs – resources, machinery, materials, salaries, etc.
In project resource planning software, you can include your initial cost information (overall project budget, hourly rates of freelancers, etc) in at the beginning of the project. As time goes on, these costs are added up as you create and update the project schedule. Then at any point along the way, you can check in with your costs calculated in a report.
What insights can you get from this KPI?
From this indicator, you can make better decisions and more accurate predictions.
Pairing it with the Budgeted Cost of Work Performed (BCWP) KPI can give you even more insights. For example, if your budget is roughly the same as what you projected, then you're on the right track. However, if you've already blown your yearly budget in a matter of months, then you'll know that you need to reassess the way you estimate your costs. Or even call it quits on this particular project.
5. Budgeted Cost of Work Performed (BCWP)
What is this KPI?
Also known as earned value (EV). This KPI represents the approved budget of work that has been performed while carrying out a scheduled task within a specific time period. It illustrates how much planned work you have actually accomplished, as well as the budget.
How to Measure it:
To arrive at the BCWP, use this formula:
Project budget x Percentage of completed work = Budgeted Cost of Work Performed
So if your project's budget is €1000 and you've completed 40% of your project, your BCWP is 400€.
What insights can you get from this KPI?
From this metric, you can evaluate how your project budget matches reality. And if it doesn't, account for what's eating up your costs. Is it that your resources are more expensive than you originally thought? Or are you spending more because some unexpected roadblocks occurred which you didn't account for?
Time KPIs
In a world where time is money, these metrics tell you so much more than just the project timeline.
6. Planned Hours of Work VS Actual Situation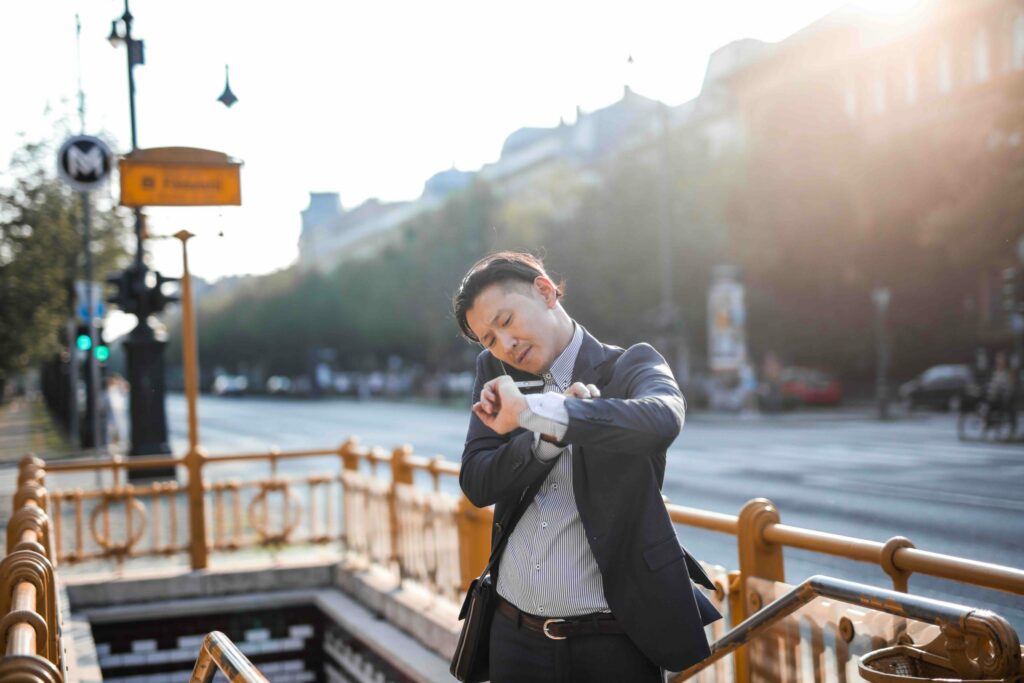 What is this KPI?
The difference between the number of planned hours for a project versus the actual amount of time worked on a project.
How to Measure it:
This variance can be quickly determined after you've created your project capacity plan.
For example, in Ganttic, planned hours is called "Busy time" and it is calculated automatically when a task is scheduled. To find the difference in the actual work hours, the PM or the user can manually add their task's "used time." These time differences can be seen when running a project report.
What insights can you get from this KPI?
Once you figure out how well your planning timeline fits with reality, you'll be able to plan additional projects more quickly. This metric is also helpful in figuring out more long-term plans and how additional projects are able to fit squarely with your schedule.
Utilization KPIs
Utilization is super important to track, because it tells you how hard your resources are actually working. Are team members heading towards burnout? Or are there some gaps where more can be taken on?
7. Group Utilization
What is this KPI?
Measures the utilization of your entire project team. Especially handy if you have multiple projects running concurrently, and you want to make sure that your teams aren't overworked.
How to Measure it:
Find the utilization for individual resources. This can be done with the formula:
Scheduled Utilization = Scheduled time/ resource capacity
For a team, you can use the individual resource utilization percentage for everyone. Combine them to find the average.

If you don't have time to run through this equation manually, project resource management software can show you this number automatically. In Ganttic, you can even see the utilization of your resource groups – for example, teams, departments, or different branches.
What insights can you get from this KPI?
This is a great way to compare how much certain teams are doing in relation to others. Meaning if you have a project that's not going to plan, you can reallocate a few resources to the underperforming team for some extra help.
This is also useful if you are managing multiple projects (which, of course you are!). Because you can make sure that not only are individual resources optimized, but teams are optimized as well. And you can adjust their utilization if a particular project requires more effort.
Measure Your Success and Help Your Team With Project KPIs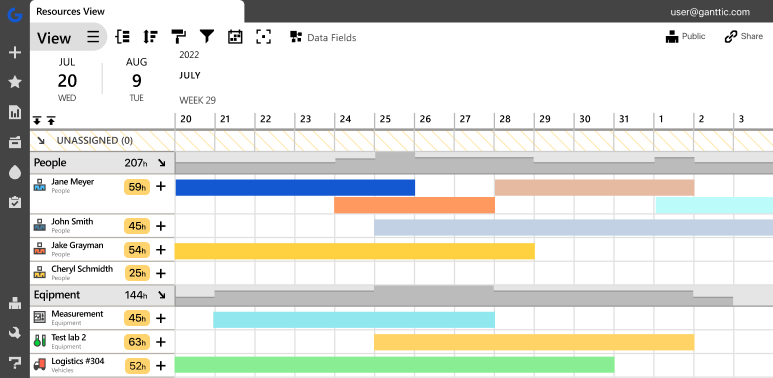 Of course there's more to projects than what can be measured. But with these KPIs, you'll be able to see another side to your projects. This can give you insights on how to make the right choices. And take back control of projects that seem like they're going off the rails.
Just keep in mind one thing: not everything in project management is measurable.
For example, you can measure the time spent on a client's project or the number of projects you have with them. But you can't necessarily measure the relationship between you and your client. Or the amount of confidence they have in your team. And how that may lead to more (or fewer!) projects down the road.
So while KPIs are decent indicators of success, they don't tell you the whole story. But if you do choose to implement some, you'll also be setting your team up for more success.
Being able to plan projects more accurately will eliminate stress, overtime, and easily avoidable mistakes. You'll know you're making the right decisions when it comes to project planning. And your team will too.
Get started by implementing these KPIs today. New to project planning software? Book a free demo.
Easily track all your important project KPIs with one tool.