We did it! We got through one of the strangest years of the past century.
As we settle in to see what 2021 has in store for humankind, it's always fun to take a look back and reflect on what you accomplished. And while this year has been anything but normal, it's satisfying to see what we've done, learn what we could have done differently, and re-assess before the next year starts.
So on that note, we'll guide you through some of the biggest news from our side, how that affects you, and what we can come to expect in the new year. Here's our Ganttic year end wrap up 2020.
10 years in 2020
This was a historic year in more ways than one. Especially for Ganttic. As this is the year we celebrated our 10th birthday.
For the past decade we've been committed to providing you with the most flexible planning software and the tools you need to get your work done.
About the big day, co-founder Ivar Veenpere had this to add:
"We're continuously trying to listen to our customers and find answers to the problems they have. They are the ones doing the hard work. And we're just trying to help them get their job done. Whether that's helping them build better life boats, develop better medical treatments, train better firefighters, or make better films. Our goal is to give them the solution for that."
If you're interested in a short history lesson, you can read more about how Ganttic got its start. As well as a few of our plans for the future.
Or check out our press release from our big day.
Important numbers over the past 10 years:
More than 70,000 users have used Ganttic
260,000 resources have been added
25+ million tasks have been completed
Used in 40+ different industries
And if you run your own startup and you're looking for some cost effective business solutions, you may want to take a peek at our great guest post by Ayomide Joseph, himself a small business owner, on the best free tools for startups.
Trends of 2020
This year was marked by changes for everyone. COVID19 had an impact on the way the world worked, communicated, and lived. And this was most apparent with the rise of the year's biggest trend, working from home.
Since our tool has been used by both onsite, remote, and hybrid teams for the past decade, we thought we'd share some advice on how to work effectively, even if it's from home. Here's our top articles on this topic that we shared:
And we even have some ideas on some of the top work trends for next year as well:
Benefits of Ganttic
This past summer we dove into what part of our tool is most helpful for users. So we reached out to find out. And you told us!
At 92%, an overwhelming number of respondents replied that Ganttic was able to give them a clearer overview of their resources. But that's not all. 67% also said that they had more control of the planning process. More than half of the respondents said that Ganttic helped them get more efficient resource usage as well as improved forecasting and long term planning, with 59% and 53% respectively.
Another 44% benefited by having fewer conflicts between projects. While 31% of you said they saw stronger teamwork and communication. And finally, 17% said they witnessed better communication with customers and partners, demonstrating how Ganttic can be used at different parts of the planning process. While 10% wrote in with their own reasons.
Thanks to everyone who replied to our survey. This information shows us what our users like while also pinpointing some areas we can improve on.
If you have any of your own feedback, we're always happy to hear from our clients. So whether you have a question, complaint, or want to pay us a compliment, reach out and let us know!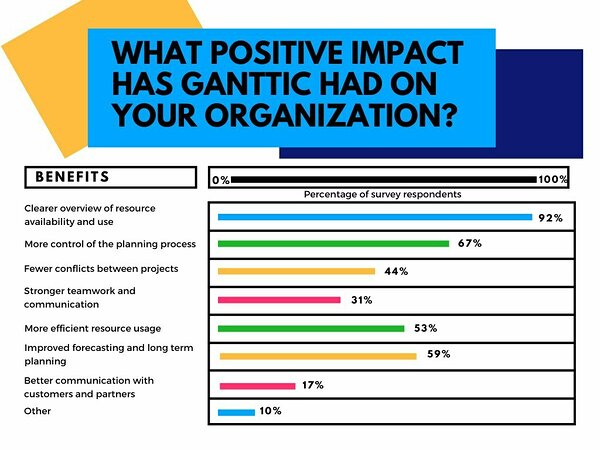 Ganttic Updates in 2020
Even if it felt like the world came to a halt, for many, work still had to go on as normal.
It was no different here in Estonia, the home of Ganttic, where we were busy perfecting and releasing updates that would help you get your work done. Here's just a few of our updates we released this year:
New Integrations
And finally we expanded on how you can use Ganttic with a slew of new integrations. From API to SSO, here's the ABCs of some of the integrations we made in 2020.
We started the year with the addition of Ganttic API. This helps integrate with countless apps or even your own software. Here's some tips on getting started with API as well as some of the features you can develop for your own integrations.
We also added several SSO options. In addition to Google, there's now the ability to sign into Ganttic with OneLogin and Microsoft Azure. Find out how easy it is to get started. And how SSO for project management can benefit you and your team.
And most recently, we've integrated with Zapier, which is an easy, no code solution for connecting your favorite work apps together, such as Slack, Jira, or time tracking apps.
If you have any questions about these integrations or if there's another one you want to use, reach out to us. You can also contact us for a webinar and we can help you get set up.
Ganttic in 2021: Our Resolutions
Next year we have more than a few surprises up our sleeves.
We're committed to providing the kind of planner you need. So stay tuned for more integrations, more features, and more ways to make those yearly plans stick. But we can tease one of our upcoming features:
What year would you travel to if you had a Time Machine?

Out with the old…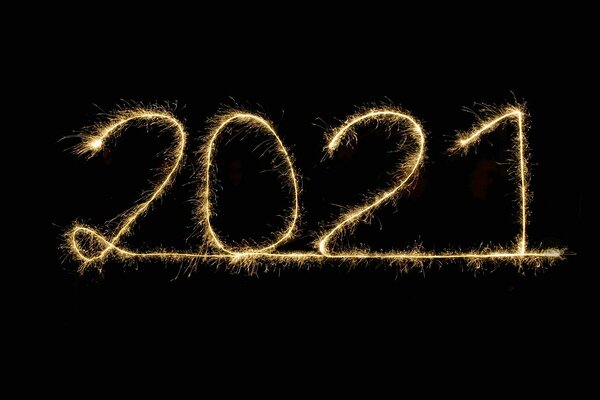 And in with the new!
With the changing of the calendar comes a way to shed the past and start anew. Make your work resolutions happen by incorporating Ganttic's updates into your planning process.
In the meantime, stay tuned to Ganttic's blog to see what other plans we have in store. As well as our weekly planning tips and advice. Or follow us on Twitter or LinkedIn.
Have a safe and happy new year everyone.
See you in 2021!
It's our New Year's Resolution to bring you better resource & project management.